Animation Artifacts &Disney &Story & Storyboards 09 Jun 2008 08:00 am
- Here, as promised, is the first stat of the Alice In Wonderland storyboard.
The Mad Tea Party – "A Very Merry Unbirthday"
This comes from the archives of John Canemaker 's collection, and I am grateful for the loan.
I don't know who the artist is, (John and I guessed at Joe Rinaldi) though it's dated 1949.
As with past boards, I post the original stat here, and then follow up by breaking the very long columns into two or three, thus allowing me to post it larger for easier viewing. This is the original: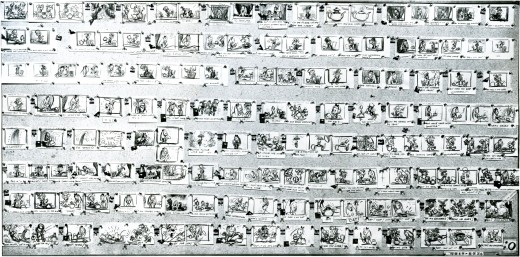 (Click any image to enlarge.)
And here are the breakdowns:

1a

1b

1c

2a

2b

3a

3b

4a

4b

5a

5b

6a

6b

6c

7a

7b

8a

8b
John has given me more boards from Alice. One for her talk with the flowers "All In A Golden Afternoon" and Alice in the Rabbit's house – growing larger.
I'll post these on future posts in the next week or so.
4 Responses to "Alice Board 1"
Leave a Reply