Books &Disney &Mary Blair 11 Jun 2008 08:02 am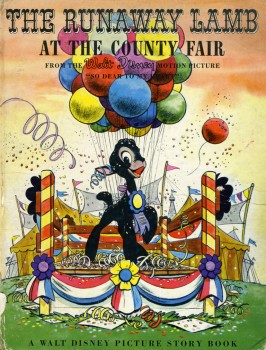 - So Dear To My Heart was Disney's second try at a live action feature, following Song of the South. Like the earlier film, they employed the same two children, Bobby Driscoll and Luana Patten, and told a story around them and their pet lamb. There was a sweet animated sequence which was directed by Ham Luske. Mary Blair, John Hench and Dicke Kelsey designed it. Animation Department
Les Clark, Milt Kahl, Hal King, Eric Larson, John Lounsbery, Don Lusk, and Marvin Woodward were credited as animators.
Here's a book that built on the film's characters. It's done in a style somewhat similar to the animated sequence in the film. The book is illustrated by Julius Svendsen, who became an animator at the studio, working in films from Melody (1953) to Robin Hood (1973). He also did a nunber of comic book illustration for Disney in the late 50′s and 60′s, working with Floyd Gottfredson.
The drawings in this book are excellent; strong poses with fine watercolored backgrounds. It's similar to but totally different from the Little Golden Books that were being done at the same time.
The book comes from John Canemaker's collection, so I want to thank him for allowing me to post the pictures. A lot of scanning's involved, so I have to break it into two posts to give you the full book.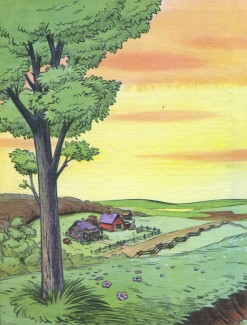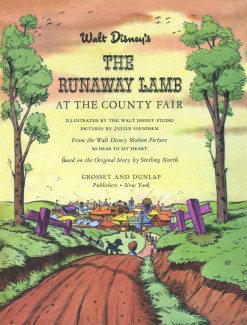 (Click any image to enlarge.)____________

____________Look for the conclusion tomorrow.
4 Responses to "The Runaway Lamb 1"
Leave a Reply