Daily post 21 Jun 2008 08:21 am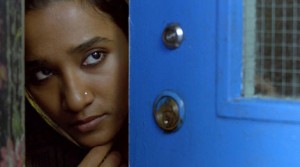 - Thursday night I went to the Academy screening of Get Smart (which turned out to be a zero of a movie. I should have expected that despite the J. Hoberman/Village Voice rave.) There was another film playing that evening, Brick Lane, a small British movie about an Indian woman who is sent to England at age 17 to marry a cousin she has never met.
That short synopsis was all I knew about the film. Rotten Tomatoes gave it a 63% on the "tomatometer," and I expected something small and hoped for the best. I was in the mood.
The film turned out to be great. The music by Jocelyn Pook virtually lifted this film to one of the best films of the year. It's excellent, and I thought I should tell you all to look out for it. If you're thinking of going to Get Smart, don't. Go to see Brick Lane, if it's available near you. If it isn't, keep the film in mind for the future. There's real poetry and heartbreak there, and it's a fine film.
I'll get to see Wall-E next Tuesday and will probably comment on it afterward.
____________________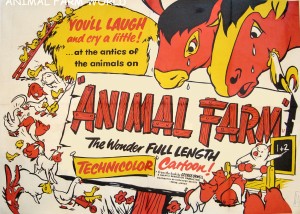 - I don't have to repeat myself. I like Animal Farm a lot. That's why I like to visit Chris Rushworth's excellent site, animalfarmworld.
Chris regularly posts lots of images from his collection of artwork from this film, and continually adds to it. I amazed at the number of cels and drawings up on this site. He has recently added some new pages for links to other sites and posters.
I've added Animalfarmworld to my list o' links.
____________________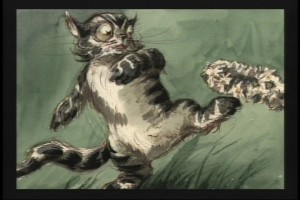 – Almost as a companion piece, Thad Komorowski has complimented my posts of the storyboards for Alice In Wonderland. He's posted David Hall's boards for sequence 1 and sequence 2.
This film, Alice In Wonderland, has generated a lot of beautiful artwork. David Hall's boards are so illustration-like as compared to the energetic boards roughed out by Joe Rinaldi. (At least I think they're Joe Rinaldi's work.) Compare both to the amazing color styling of Mary Blair. (Check out Canemaker's book, The Art and Flair of Mary Blair.
Note: after I post the third and final of the boards John Canemaker has loaned me I'll post a bunch of Mary Blair images.
____________________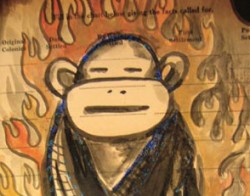 Lynda Barry has an interesting essay on "the power of the paintbrush" on the Tricycle archive. Read it. After you read that go out and get her new book, What It Is.
I was sent to the article via a link on Drawn. I learned of the book from Matt Clinton, a principal animator in my studio, who stood on line for a while to get Barry's signature. She spoke at length to each of those on line, so there was a bit of a wait. She drew a cartoon for Matt, making it all worth waiting for.
Lynda also recently spoke at NYU as part of a symposium on the cultural importance of comics. Annulla tells the tale on her great blog, Blather from Brooklyn.
One Response to "Hopping Skipping & Jumping"
on 21 Jun 2008 at 3:57 pm 1.Jenny said …

I've never been able to love "Animal Farm" the movie simply because I first saw it on a Sunday afternoon on local TV when I was-what? 7 years old?

To say the shot of the glue truck trundling off–with the lovable old horse inside, his friends screaming their version of "soylent green is PEOPLE!" after him–scarred me for life isn't an understatement. "you'll laugh at their antics!"-yeah, right. You'll giggle at the Fascism, euthanasia and evildoings! Whee!
Very cool film that of course was never a story for children. Drat that title, Orwell! And drat animation pigeonholing as kids' shows!

Lynda Barry is just tops in taps, a true original who I loved reading every week and who sounded like a fascinating woman (unsurprising that) on NPR a while back, talking about her life.

Nice collection of links as usual.
Leave a Reply