Animation Artifacts &Disney &Mary Blair &Story & Storyboards 23 Jun 2008 07:59 am
- This is the third photo of the board for Alice In Wonderland. Once again, I think it was drawn by Joe Rinaldi. I have no evidence to prove otherwise, and that guess makes the most sense to me at the moment.
As with past posts, I show the storyboard photo as is, then reproduce it one section at a time so that I can enlarge it to the largest size.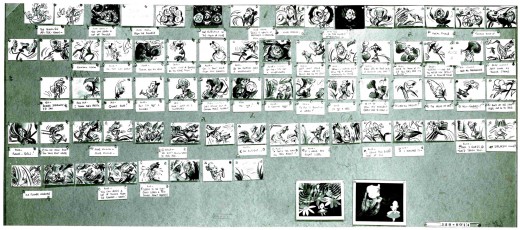 ____________(Click any image to enlarge.)

1a

1b

2a

2b

3a

3b

4a

4b

5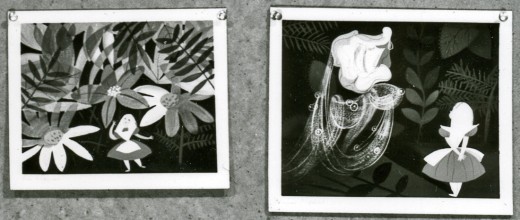 At the base of the storyboard are these two Mary Blair images. I did a bit of a search (and I do mean "a bit"), and I wasn't able to find color reproductions of these two pictures. So I'm posting them as they appear in this photo. They're a bit blown out in the photo in hand, so I did a little work in photoshop to pull out a bit more of the grays.
There is another photo which includes a bunch more of Mary Blair's designs for Alice. I'll post that soon (though I also have to search to see if any of those are printed in color elsewhere.)
6 Responses to "Alice Boards 3"
Leave a Reply