Animation Artifacts &Illustration 25 Jan 2006 09:29 am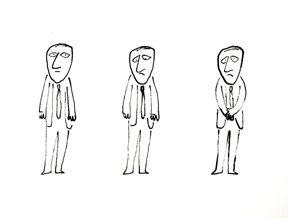 I thought today I'd post some layout drawings done by William Steig for an Alka Seltzer commercial produced in the early 60′s.
Obviously, for the purpose of viewing, I've reconfigured the poses so that several of them are on each set-up. There are actually 15 drawings to the commercial, all on separate sheets of paper.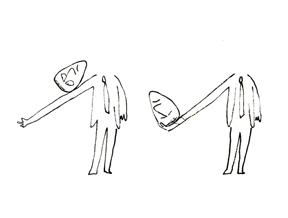 The commercial was done by Elektra Studios. Steig worked with a bamboo reed cut to form a point. He dipped that in ink and drew. The paper is particularly thick and is designed to absorb the ink. They're punched with Oxberry peg holes top and bottom. I have one of the "pens" he used to draw these layouts. The final comercial was basically an ink line drawing against a white field.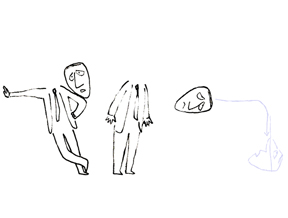 I've been a big fan of Steig's since my earliest days when I first discovered him in the New Yorker Magazine. By the time I'd made it to college, I'd already seen two art exhibits of his artwork.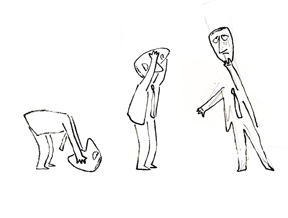 By the time I saw my third exhibit of his work, I was able to barely afford one of the New Yorker drawings. It's done on rice paper with the same type of "pen". Years later, when I told Steig that I'd bought it, he said that it was the only drawing to have sold at that exhibit.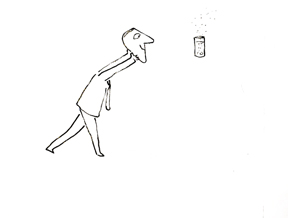 It was real luck for me to have been able to adapt a couple of his children's books to animation. I not only got to meet him and his wife, Jeanne, but worked with his flutist son, Jeremy, on a number of projects.
I'm rather partial to Abel's Island as a film. There were only about two dozen B&W pen and ink illustrations in the book, so we had to do quite a bit of designing in the style of Steig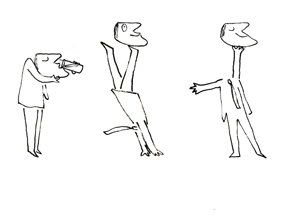 Bridget Thorne, who art directed the film, did some of her finest work ever on the backgrounds – beautiful pieces that I still treasure. I think this is one of Steig's best books, and I think we did it justice.

-

I still wonder what Shrek might have looked like if they'd followed Steig's book illustrations.
One Response to "Steig Alka Seltzer"
on 25 Jan 2006 at 5:23 pm 1.Jenny said …

These are priceless. Wow. I love Steig.
I wonder what an animated 3D film could look like, with his designs–or if it could be done? I begin to feel like a naysayer from the pre-Snow White days" "But they won't be able to look at a cartoon for 85 minutes!" I'm sure I can be convinced, but it'd take some clever rigging, I'd guess. Those are the sort of things that haven't been attempted yet in CG so far as I know, and there's a hell of a lot of potential there…
Leave a Reply