Commentary 25 Jun 2008 08:00 am
- Lately I've been quite bothered by animation, as it currently exists. I'm talking, specifically, about hand-drawn animation. Frame-to-frame drawing.
I don't include cgi in this, just as I wouldn't include 3D puppet animation. They're both different media, to me.
I don't include Flash films, which to me is a form of cut-out animation. Characters aren't drawn frame-to-frame, they're manipulated. (I know, I know, you can use this program to draw frame to frame, but that's not how it's used by 99.7 % of those using it.)
I'm talking about drawn animation, frame-to-frame. All of the frames are drawn (not inbetweened by a computer), all of the movement is out of the animator's hand and head. This is practiced by fewer and fewer artists, and I really worry about the future and trained animators.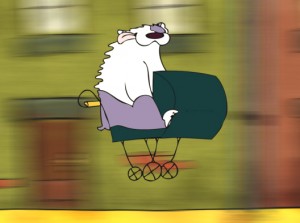 Recently, I received an email from a Scottish student who'd visited my studio back in January '07. Laura Whyte and Mike Dziennik were in NY and had arranged to meet with me, see the studio and show me their work. Yesterday, she'd sent me a link to the graduation films that the two had done, and I was able to look at other work from the school, Duncan of Jordanstone, the University of Dundee.
I have to admit, I was pleasantly surprised. These were students of real animation and real storytelling. Most of the student films from this school were capable and energetic pieces done with some panache. Animation seemed alive.
I suggest you look at the two films of these fine graduate students:
Chasin' Tail by L. Whyte, Mairi Steele, Arthur Crook & Shaun Gordon.
Here are Laura's comments about the film:
Chasin' Tail was traditionally animated, but we cleaned up in ink and then
vectorised it in Adobe Illustrator.. the backgrounds were designed by a traditional painter and then because there were so many of them, most are digital mockups of her style done in Photoshop. The spinning door is After Effects 3D and the envelopes were done in Maya… and there's a couple of bits of After Effects animation on the cars and the butterfly in places.

Apple For Sir by Mike Dziennik & Grant Crawford
Laura writes about this film:
Apple for Sir was a much more technical process than Chasin' Tail… they did all their animation using cut outs in Adobe After Effects, and their backgrounds were 3D environments built in After Effects — they had some epic rendering times, that's for sure…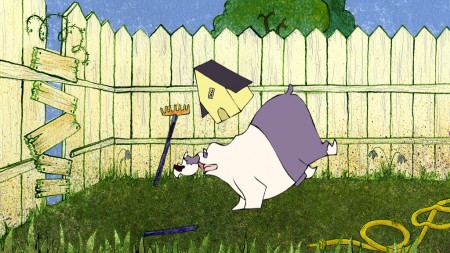 A still from "Catchin' Tail"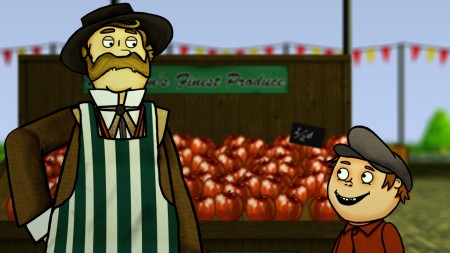 A still from "Apples for Sir"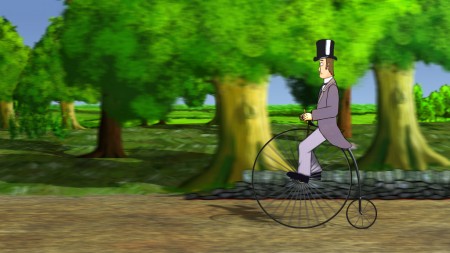 another still from "Apples for Sir"
If you want to see other films from this school go here.
Right after seeing these, I saw the link on Cartoon Brew to the Gobelins Animation Gallery. There were Festival openings these students did for Annecy. Here was feature animation quality films done in this extraordinary school. If you haven't seen them already, go.
I have to say after watching these student films from Scotland and France, I realized that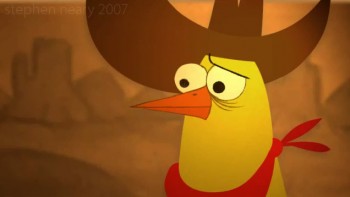 there was hope for hand-drawn animated films. The problem is that I just need to be reminded every so often. I'm sure there are others being done in the US; I just haven't seen them. There were a couple at the NYU showcase I'd seen that were very promising. (One, Chicken Cowboy by Stephen Neary looked as though it were ready to go ________________Stephen Neary's "Chicken Cowboy."
as the pilot for an excellent tv series.)
Then there's the Rauch brothers' work, Tim & Mike Rauch; Germans In The Woods was certainly the right track. There is some hope.
I'm looking forward to the Ottawa Festival to get a better gauge on the professional films.
6 Responses to "A Future"
Leave a Reply