Commentary 05 Jul 2008 08:33 am
- Animation has completely done a big turnaround in the past 10 or so years. The medium has evolved so drastically into something else that I've come to feel that a lot of the past has become or is getting lost.
Yes, this is going to be one of my usual rants, but I think I have something that's worth going on about. Maybe a good long conversation can start. I don't really want to talk about how we got here, but I do want to talk about where we are.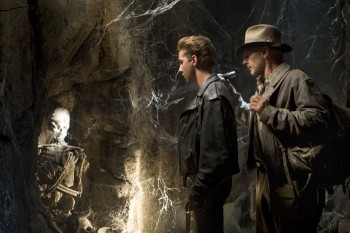 Live action movies aren't live action anymore. Go to Indiana Jones 4 or Hancock or The Hulk or Journey to the Center of the Earth or most other fare at the local theater, and you maybe get the idea.
In 1979, the Museum of Modern Art had a special exhibit complete with chat and Q&A from Peter Ellenshaw.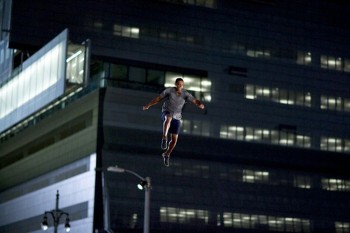 A lot of his matte paintings were displayed, and he talked in front of a projected screening of shots he worked on from many of the films. Mary Poppins, Treasure Island and Polyanna were discussed.
I was struck with how impressionist the paintings were up close, yet on screen they looked so absolutely real. I asked about this, and he said that he found that the paintings had to feel a bit ____________________What's real?
out of focus to achieve the effect
of reality. When he painted in a very realistic mode, the paintings didn't work.
His glass paintings, which were painted on glass, originally sat between the camera and the scene. They were designed to add to the background being filmed. Ships in a harbor were painted or a skyline was altered to more closely match the historic film being shot; these were painted on glass and matted out things in reality. These glass mattes eventually were just matted into the scenes optically, though Ellenshaw didn't change his process.
The paintings were a bit more impressionist than the reality on the screen, but since it was only about a third of the image, we bought it.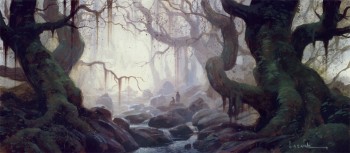 Today these paintings, of course, are painted on computer. Paul Lasaine beautifully details this process on his blog. The matte paintings have, in many films, superceded the reality being photographed. That "impressionism" has come to overwhelm the images we're watching. When George Lucas talks about having his actors act against a blue screen with all the world being painted in by artists and animators, the film has become something else.
You can see this in the Indiana Jones films. The first had a tactile approach to the effects and the world of Indy. It DID resemble the cheap "B" movie serials it was imitating. Indiana Jones 4 completely lost that with this painted world. There are scenes where the actors are so obviously not in a real world on a real set. They're acting against a blue screen. The scene in the grave of the aliens, where the 13 skeletons sit above them, is so obviously painted. The actors have no connection to humans in a cave or a grave; they're not. It's completely fake and feels it. This is one of the problems with the entire film. There's no reality; nothing we can touch.
Every film, from Adam Sandler's Zohan to Get Smart depends too much on the computer and robs the films of interacting humans on screen. They're not in reality; we can't buy or accept or understand their situations?
The Harryhausen effects were not real, but the tactile nature of his puppets allowed us, at least, to feel them. To know that something REAL was on the screen. Compare the original Yoda, the Frank Oz voiced puppet, with the digital thing of later films. One felt real, and it wasn't the digital version of the character. Life for Lucas was made easier, a new animated world opened to him, but the experience for filmgoers was diminished. There was no there there. The real effects of the earlier film allowed us to stay in the film; the fake effects of the new film doesn't even allow the actors in.
The computer has also changed animation. Obviously, when you have those 13 skeletons animated by computer in Indiana Jones 4, or any of the Harry Potter films or The Hulk,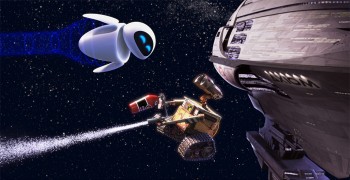 and when that looks not too different from the animation from the latest Pixar film, what is the difference? Wall-E's reality had nothing to do with me. It was a robot/compacter and another egg shaped robot (that I had even less connection to) interacting. I never entered the film; it had no relation to my life. I watched filmmaking choices, scene cuts and storytelling. I caught all the obvious and pedestrian biblical references, all the intended "depth," and felt the film go completely haywire once it left what was supposed to be earth. (Why didn't they just stay on earth and let all the fat humans come to Wall-E so that we could watch them try to rebuild? This is the real story isn't it? Not the running back and forth throughout the spaceship.)
The film felt too connected to all the other films I see on the screen these days, films that I cannot connect to. This is pretty much all I feel for most other computer animated films.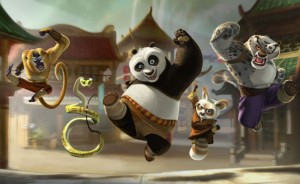 Kung Fu Panda is filled with beautifully drawn and painted backgrounds, much more pleasing than Wall-E. But the little viewmaster-puppet-characters are constantly moving in clichéd poses and actions. (Does every scene have to end with the some character arching their eyebrows?) I know this is a parody of Kung Fu movies, but who cares? What does it have to do with REAL human experience?
I also feel that every character moves identically to others. Tex Avery gave us snap animation, and Bob Clampett gave us blurred positions from A to B, but that doesn't mean every film and every character has to imitate this. (I saw one page on Cartoon Brew from Eric Goldberg's new book Crash Course in Animation. It advises young animators to use this blurring technique! Not good advice in my mind. I'll have to see the book to decide if that's the norm.)
I haven't seen Horton yet, but at least that LOOKS different than other computer animated films. The Jim Carrey voice over kept me away, but I'll watch it eventually. I like some of Blue Sky's work and still hope for the best.
To be concluded tomorrow.
21 Responses to "more or less – 1"
Leave a Reply