Commentary 06 Jul 2008 08:13 am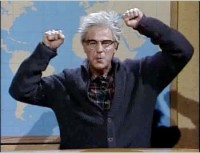 - Dana Carvey, on Saturday Night Live, used to have the "grumpy old man" character. "We had to eat worms, and we liked it!" I'm beginning to feel like the grumpy old man, but I'm hoping I'm saying something here, that touches a nerve in someone else.
Yesterday, I was headed in the direction of saying that computer animation in Harry Potter or Lord of the Rings or Indiana Jones 4 was no different to me than the computer animation in Wall-E or, ultimately, Kung Fu Panda. They all move, but, to me, none of them live. The "animus" isn't there. Artful, well crafted movement is there, but it's not something that inspires me to go out and draw or get back to my animation box (for the most part, a computer.)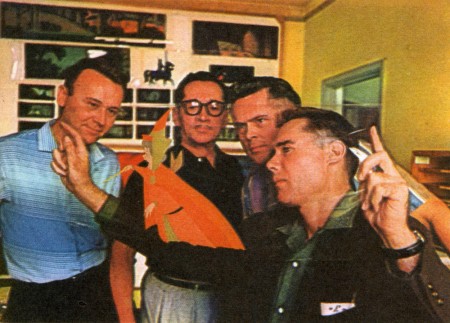 I can remember when just looking at the picture to the right of Eyvind Earle holding up a Sleeping Beauty cel (in Bob Thomas' book, The Art of Animation) would thrill me to the bone so that I had to start drawing or get myself to the board.
After the release of Beauty and the Beast, John Canemaker and I had a conversation. He pointed out that once he or I would have been taken by a screening of Fantasia or Dumbo and been inspired to animate, and a youngster, today, seeing B and the B would have that same rush. The newer film may not have inspired either of us, but other, younger, future animators were. This was comforting to me.
But recently, when commenting about Wall-E, I wondered if anyone would be inspired by that film. Were there youngsters out there who felt compelled to animate after seeing the Pixar movie? Perhaps through lack of imagination, I can't see it. But I can't see it.
Somehow, though, The Iron Giant seemed like something that could inspire people. I also thought The Triplettes of Belleville and Persepolis were inspirational to future animators. I expect the same was true of Toy Story, The Incredibles, even Ratatouille. Perhaps even Kung Fu Panda.
When Don Bluth ran away from Disney and set up his own company to make The Secret of Nimh, there was a lot of excitement in watching their progress. The film wasn't all we hoped for, but it was light years better than The Black Cauldron.
When Katzenberg left Disney and set up Dreamworks, there was a charge generated, and it was exciting waiting for Prince of Egypt. The film was pretty good, too, and seemed to auger good things for the future of Dreamworks. The announcement of William Steig's Shrek was a real charge. The horribly ugly film that was produced was so much the loss for computer animation, and that's when everything changed. Yeah, the grass moved ok, but it was near impossible looking at the damned thing. A sarcastic, sardonic story led the way for nasty films to come. Attitude became everything, and the graphics were lousy.
Animation seems to be diving deep and hard.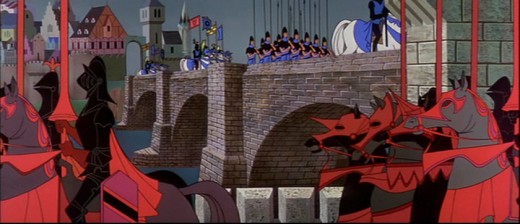 I don't think it gets more artful than this.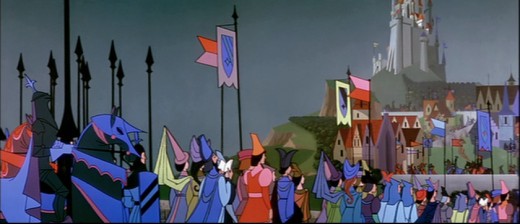 So what's the answer? We're in a hole; how do we get out?
It's all about hope and hard work and not giving up finding that inspiration wherever you can.
A couple of years ago, I was about to throw in the towel. As usual, it was an incessant fight to keep my tiny company afloat. Just paying the rent was sapping my soul from any animation I could pick up. I wasn't inspired by any of the films I was seeing, and I was beginning to lose hope.
Mike Barrier's book, Hollywood Cartoons, arrived just when I needed it, and I soaked it in. The book – especially the writing on Snow White – just charged me like no tomorrow. I finished reading it and started reading it again, immediately. That book saved me, no doubt, and I couldn't have been more charged. Things turned around for me just by being excited by my medium.
You have to find the book or the film or the charge that's going to keep you going. Writing this blog helps me, these days. In doing it, I'm always looking into films and frame grabs and endlessly studying animation I love. I can look past films that I think hurt the medium and find something that I love.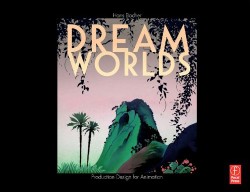 So many books such as Hans Bacher's Dream Worlds or Amid Amidi's Cartoon Modern offers lots of art; you have to find some inspiration. I'm looking forward to Sylvain Chomet's next film, The Illusionist. I want to see Clint Eastwood's new film, The Changeling. Of course, I can always go to a museum in New York to find art that excites me. And live theater sometimes excites me.
In short there are worlds out there, and I find it up to me to get that inspiration moving. I'll probably focus on more of those books and films and artworks that inspire me, so this rant just ain't going to end any time soon.
Sorry.
13 Responses to "more or less – 2"
Leave a Reply