Animation &Commentary &Independent Animation 11 Jul 2008 08:03 am
- I'd like to talk about a film, but actually it's not the film but the filmmaker that I'm interested in.
A couple of weeks ago, Mark Mayerson wrote a piece on his blog about Animation and Theater. Mark has become something of an authority on acting and animation. This piece was, in ways, an extension of past comments he'd made about the subject. Having attended a one-man show about Theodore Roosevelt, which was entitled "Bully," Mark discussed the possibility or the likelihood of animation pulling off such a subject with as much success.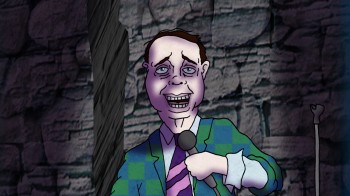 This made me think about the subject that has fascinated me for years. Animating long monologues with any such success. A year or so ago, I'd gone through a number of theatrical monologues thinking I'd have an actor record the piece (or pieces) and try getting them to work. Using animation as a medium to delve beyond the surface to understand character and characterization. One thing leading into another, I never got to complete that project – though I haven't given up on it.
Now I find, thanks to a correspondence with John Schnall that he has done this.
John is one of the more daring animators/animation directors out there. He has for years chosen difficult subjects and difficult projects to animate. They all have a strong sense of the bizarre, but they're all breaking molds that I don't see others even trying to break.
His most recent film, Dead Comic, is as difficult as it gets. The film is a monologue by a dead comedian, and it offers a gruesome exploration of the afteryears of someone married, eternally to his job. The film could have been called Dead Animator, in my case, but it wouldn't have been as funny. John has animated a monologue – a difficult monologue.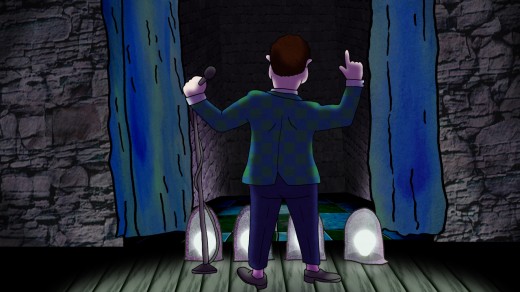 The film is so difficult that audiences seem to be afraid of it. (Is the subject of death that difficult?) The recent ASIFA-East festival didn't have the patience even to sit through it, though, in my opinion, it's better than most of those that won prizes. It's just more challenging, and the audience wanted more of the expected rather than something complex and difficult.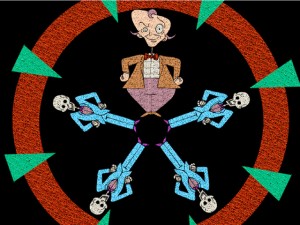 I don't think it's the greatest film of all time, but I do think it's brilliant. You should watch it and understand that the staging is incredibly complex, the timing is very sharp and the design and writing are wholly original and unafraid. it took hard effort, knowledge and ability to make it work.
In any case, I am always eager to see what John is up to. He's one of the few artists working in New York and in Independent animation.
Go to John Schnall's website here.
See Dead Comic here.
Buy a 40 min. compilation of John's films here.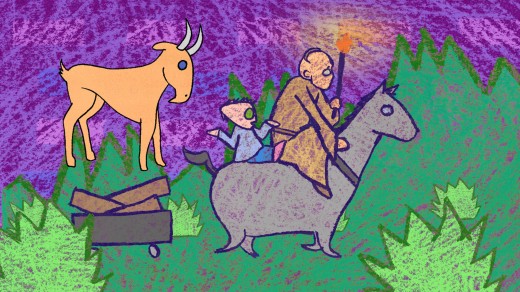 The last two illustrations are from Ha Ha Ha and The Binding of Isaac.
16 Responses to "John Schnall"
Leave a Reply