Articles on Animation &Commentary &Guest writer &Independent Animation 12 Jul 2008 08:23 am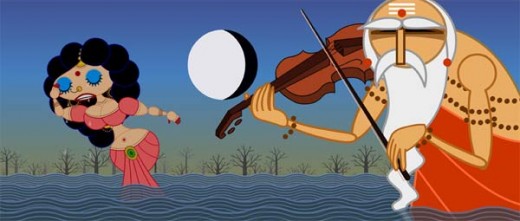 – I received the following article from Nina Paley, the creator/animator/ director/designer of Sita Sings the Blues (which won the Best Feature Prize at Annecy this year.) The article came with a letter, which I think helps explain why she wrote it.
Here's the letter:
Hi Michael,

I'm back in NY, finally, spending my first day home in my apartment with the AC on with the cat next to me, surfing the web. I read your review of Wall-E, which I haven't seen yet, and thought to send you this essay I wrote for Frederator (which they never used) on the theme of "Why Cartoons?".

Since Berlin, I've been convinced that most cinemagoers are simply voyeurs, craving simple stimulation of their primate visual senses in the form of close-up views of beautiful people courting and mating, and gory violence. Things our inner primates think about constantly but seldom get to see. Animation is more abstract and cerebral, visually. I prefer it to live action, but I am a freak (like most animation fans).

Pixar's success lies in making animation that visually resembles live-action and satisfies the typical cinemagoer's inner voyeur. Hence the expanding popularity of 3D "animation" among Hollywood producers.
Typical American cinemagoers are put off by 2D animation, but 3D gives them more of what their primate eyes want: to believe they're watching real events up close without risking personal exposure.

Since I'm going to a lot of festivals with "Sita," I am struck by the cultural differences between animation festivals and "real" film festivals. When I refer to films as "live-action," most directors don't know what I'm talking about; to them live-action is just "film," and animation is completely off their radars. Most have never heard of Annecy or any other animation festivals. Most film festivals automatically exclude animation from competition, instead programming it in what I call the Animation Ghetto – or worse (in the case of "Sita"), the "Family" or "Children's" sections. But their programming animation at all is evidence of some progress. And I'm grateful, especially for the 2D animation fans that already exist, and the chance to expose new viewers to the art form.

Hope you're well,
–Nina
This is the article she sent.
WHY CARTOONS?
Because less information = more meaning

Animation takes advantage of quirks of human perception. Good cartoons lie somewhere between nature (no abstraction) and text (full abstraction).

At its best, animation does what live action can't. Good animation is unrealistic. This starts with the style itself: drawings and designs of things that can't exist in the real world. Exaggerated heads and hands, huge or tiny eyes, rubber-hose limbs, cubism. A handmade line drawing of a robot requires our uniquely human imaginations to understand it as "a robot," but we may recognize it more quickly than a photograph of a real robot.


Exhibit A: cartoon drawing of a robot.


Exhibit B: photograph of a real robot

Animated motion should also defy reality. For example, bouncy walks that no robot (or human) could replicate, even though we can recognize them as "walks." Good cartoons stimulate and exercise our imaginations in ways live action never can.

Like reading or working out, viewing cartoons can be exhausting. But far less time is needed to communicate more meaning. That's why cartoons are so effective as shorts (and commercials).

Live action conveys too much information. "High production values" are the art of removing as much information from nature as possible.
Wrinkles and blemishes on actors' faces are concealed with makeup; stray threads and hairs are tucked away by stylists; wires and microphones hidden through camouflage, meticulous set design and framing; unwanted details lost in shadows via careful lighting, which heightens only those few areas and outlines intended to convey meaning. But still, excessive information abounds in live action.

Cartoons start with only the information needed. There's nothing extraneous to hide. If you mean "eyes," you show a symbolic short-hand representation of "eyes," nothing more. No gunk in the corner of the eyes, no moles on the eyelids, no eyebrow dandruff – unless you explicitly intend to convey these details as well. The picture is as clear as the idea in the mind of the artist, and that clarity of meaning is transferred to the viewer.


Exhibit C: real eye, belonging to the author.
Notice bloodshot veins indicating stress, wrinkles indicating wisdom and maturity,
shiny skin surface indicating absence of makeup, and other excess information.


Exhibit D: cartoon eye, or possibly captain's wheel.

(Also, producing animation totally trumps live action: No uppity actors. No obnoxious crew. No permits. No tedious laws of physics. If you can imagine it, you can animate it; no extra charge.)

But animation remains the bastard child of cinema. Most moviegoers just want to watch beautiful people. Bonus if the beautiful people are celebrities; extra bonus if the beautiful people are performing sex or violence onscreen. Animation can deliver meaning, story, ideas – but it doesn't satisfy the sexual voyeur that drives most cinephiles. In live action, a camera can linger for minutes on a beautiful actress' face, as the audience attends to all that information: every eye-blink, every change in pupil dilation, the subtlest nostril flare, the slightest movement of any of the hundreds of facial muscles lurking below the makeup. In live action, such a scene is watchable. How could such a serious and pensive scene be conveyed in animation? It would either be painfully dull (a long still) or ridiculous (imagine a Bill Plympton interpretation where every nuance is exaggerated: small nostril flare becomes huge, facial muscle twitch becomes twitchy animal running around under skin) and, like all animation, exhausting.

Live action satisfies our voyeurism, animation ridicules it.

Since I can't take voyeurism seriously, I go for ridicule.
23 Responses to "Guest writer: Why Cartoons?"
Leave a Reply