Daily post &Disney &Events 23 Jul 2008 07:44 am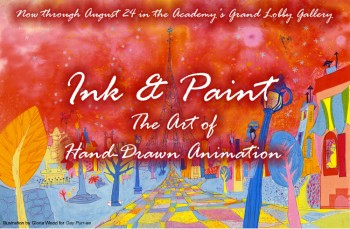 - My friend, composer, historian, Ross Care, sent me some comments on his viewing the show at the Academy exhibit in LA. This is a large exhibit of work done in traditional methods of creating animated films.
Here's Ross Care's report on the show:
At the July 18 AMPAS screening of the recent digital restoration of Disney's SLEEPING BEAUTY I had another chance to take a look at the Academy's excellent exhibit: "Ink & Paint: The Art of Hand-Drawn Animation."

This unique exhibit focuses on the art which preceded the actual productions, i.e., the conceptional drawings and paintings which inspired and determined the total "look" and style of the final film.

These concepts often turned out to be sensitive and vivid works of art in their own right. The Disney studio, which took particular care (and time) in the production of its often long-in-progress early features, was well represented.

An entire section was devoted to the small, jewel-like paintings of color stylist Mary Blair who keyed the looks of Disney's late-'40s/ early '50s features. Most were from CINDERELLA and PETER PAN.

The Blair section also revealed that some of these pre-production works were also used in Disney's prolific merchandizing of his films. Blair's colorful painting of a stylized pirate ship can also be seen on the first page of one of the three Little Golden Books that were published at the time of PETER PAN'S release.

Eyvind Earle, whose controversial style keyed the look of the evening's SLEEPING BEAUTY, was represented by several panoramic paintings for that epic film. There was also a small painting from the short TOOT WHISTLE PLUNK AND BOOM that the artist even had the nerve to sign.

Aside from the many Disney and Warner Bros. works, art from lesser-know films is also represented. I was especially struck by several pieces from SHINBONE ALLEY, an obscure 1971 animated feature which I have not seen since I saw it at a Saturday afternoon kiddie matinee back in Lancaster, Pa. many years ago.

SHINBONE is based on the archy and mehitabel stories of Don Marquis (and a Broadway musical based thereon). Maltin calls it "genuinely odd" and "not really for kids," and I have never forgotten having seen it. A character study of the blond cat, mehitable, by Alvaro Arce, brought the experience vividly back.

UPA's GAY PURR-EE was represented by an amazing Paul Klee-like painting of the money cat sequence by Corny Cole, some vivid backgrounds by Gloria Wood, and character studies – the especially droll money cats – by Abe Levitow.

As the Academy flyer notes: "The magic of animated film depends on the ability to being to life not only animated characters, but the worlds they inhabit."

"Ink & Paint" provides fascinating, witty, and often breathtakingly beautiful glimpses into the process of the creation these worlds.

The exhibit continues through August 24 at the Academy of Motion Pictures Arts and Science, 8949 Wilshire Blvd., Beverly Hills, CA.
Ross Care's website is here.
Ross Care's Blog is here.
________________________
- For those of you who are fans of Kung Fu Panda, you may enjoy the "Animated comic books" for viewing on Yahoo. These are basically Flash animatics featuring some very dynamic graphics. It's worth a look to see what's out there.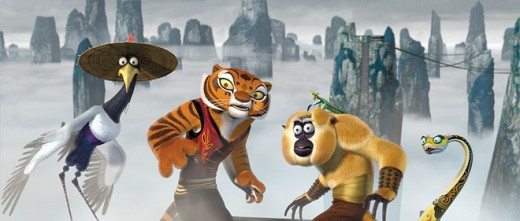 ________________________
- An interesting website for those of you into cartography, is the Strange Maps site. This site features a variety of interesting and curious maps all with their own explanations.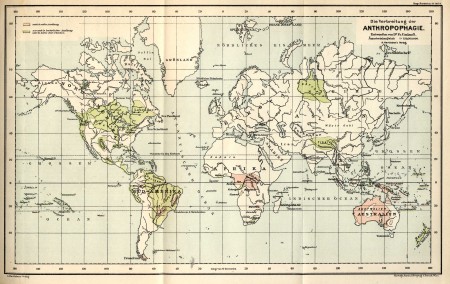 The map above, for example, details where
occurrences of cannibalism took place.
See other many, varied maps on this site. They come complete with extensive explanations – making for excellent reading.
________________________
Finally, here's the new kitten living in our studio, Lola. (Whatever she wants, she gets.) She's found the top of my 10 foot bookshelves; it's where she sleeps during the day.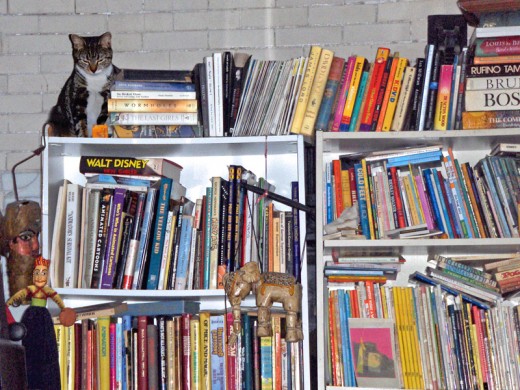 4 Responses to "AMPAS Ink & Pt Exhibit, etc."
Leave a Reply