Books 31 Jul 2008 07:54 am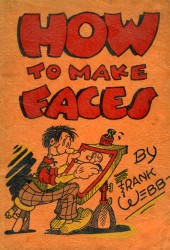 - Last week I posted the first half of the book How To Make Faces by Frank Webb. This was a book on "how to draw faces" published in 1940.
I initially posted part of this book in August 2006. Its popularity inspired me to repost it with the remainder of the book added.
The first half takes the alphabet and builds up from there. This part takes simple shapes and does much the same.
When I initially posted the book I received an interesting letter worth posting again:
Hi,
Frank Webb was my great uncle, and I am very pleased to have found someone who still knows of him. I have a bunch of his stuff, and know a bit about his history, including him publicly proclaiming Walt Disney a crook! One of Franks drawings ended up in a sale to Disney, and renamed (from "Dippy Dog") to Goofy. Thank you for including him here.
Darren Reese
Here's the second half of the book.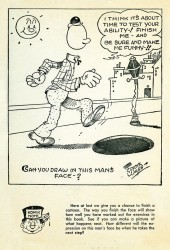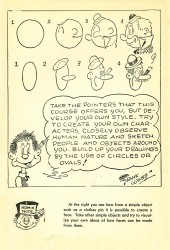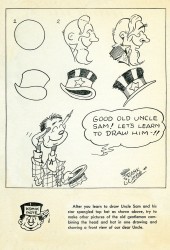 (Click any image to enlarge.)_______
As I mentioned, every other page is a "Practice Page" where you're supposed to try to draw the characters. For the first half of the book, these practice pages are blank (except for the type "Practice Page"), however in this second half some of the pages have an exercise at the bottom. These pages look like the one to the bottom left.
I've taken all of the remaining exercises and have ganged them up onto the image to the lower right.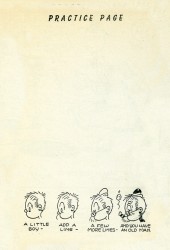 __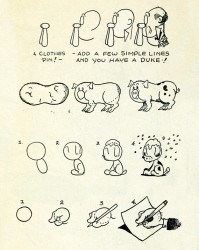 3 Responses to "Webb's Faces – 2"
on 01 Aug 2008 at 1:30 am 1.Bill said …

Hey Michael, love the blog…just wanted to warn you of a new phenomenon that shares your last name:

on 01 Aug 2008 at 7:04 am 2.Jason said …

I always loved this book. Peanut = Pig. HA!
Leave a Reply