Commentary 25 Jul 2008 08:22 am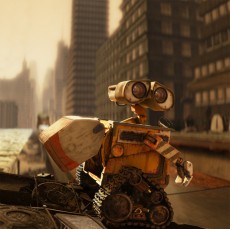 Michael Barrier hit on something with his reviews of Wall-E and Kung Fu Panda. I've been thinking about it for quite some time, but I never really plunged into the thought. Two lines of his review stood out for me:
"The animation of machines is effects animation, and that's really all we see in the first part of WALL•E."

"What's clear from WALL•E and Kung Fu Panda , as never before, is that computer animation is a dead end, a form of puppetry even more limited than stop motion."
When I first saw Toy Story, I realized that the possibility of computer animation replacing traditional animation might actually exist. Nothing prior to that point led me to think that. What I didn't expect was that I was watching the high point of the medium.
People concentrated on animating grass (A Bug's Life), hair (Monsters Inc.), water (Finding Nemo) and, now, machines (Wall-E). Essentially, they were concerned with moving the technical capability of the medium forward and ignored the very real need of moving the characters with any REAL depth. Pixar and Dreamworks gerry-rigged stories around the capabilities of the new medium and animated around those problems. They've gotten to the point where they can successfully impersonate the things of real life.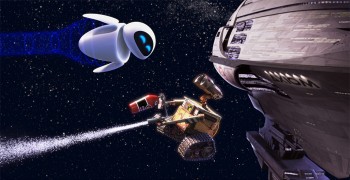 However, if a well rigged commercial can feature computer animation that equals or betters something in Pixar's best, or a live-action/computer-effx feature (such as Spiderman 2, which has a story almost identical in parts to The Incredibles, or The Dark Knight, which has superior performances to anything in Pixar) works better than the best feature animation scene, what's the point?
They are animating Special Effects. The animated "Effx" in The Dark Knight are good enough to be invisible as animation. In Spiderman 2 it all looked animated, and I wondered if they were going to try to horn in on the Oscar's Best Animated Feature category.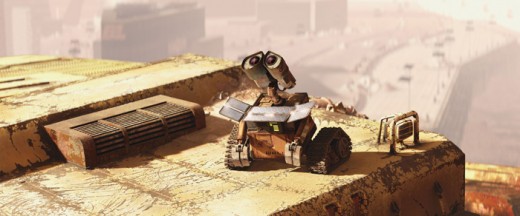 Mike Barrier should have gone further in his statement. All computer animation has become Special Effects. Someone moves the skeleton; someone adds the flesh; someone adds textures; someone adds lighting. Who's responsible? It may as well be a car driving through a rain storm that turns into a desert. Oh wait, was that Cars?
The animation of Kung Fu Panda is closer to what I think animation is, but the movement of the characters has little to do with the actual characters. It's just fast or slow and derived from the clichés of Kung Fu movies. There's no character development that the voice over actors haven't given it. It becomes a lot of little dolls zipping around beautiful backgrounds. Some scenes and animation from Mulan have it all over this feature.
The director is undoubtedly the "auteur" and when you have a Brad Bird who keeps challenging the movement to be more "human" it can work. His films work well, and he seemed to be onto something after The Incredibles. If he ever gets back to animation, perhaps he'll help advance this medium. At the moment, for me, I don't see much of a future here. It hasn't moved beyond Toy Story other than technically speaking.
I've seen some recent grumbling about Disney's Sleeping Beauty, but I think that film was light years beyond anything yet done in computer generated animation. Perhaps, it's just my own sensibilities and taste boiling over. I've watched the Emperor in his new clothes for the past fifteen years. All I'm saying is we're all getting cold.
The medium is floundering. When you get to see the Honda guy knocking on the glass screen of the TV and are pleased because it's, at least, animated. No Flash fakery. It's real animation. It's alive.
___________
Mark Mayerson has an excellent response to my negative comments on his blog with Babies and Bathwater.
10 Responses to "More on Wall-E"
Leave a Reply