Photos 27 Jul 2008 08:25 am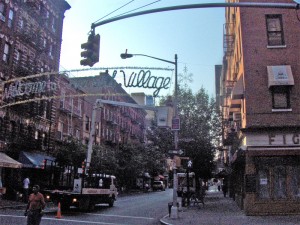 - Walking up Bleecker Street (a block away from my studio) at 6am recently, I noticed a truck putting up the "Welcome to Greenwich Village" sign.
This sign is a mainstay of the Christmas decorations that don't go up until October, so I was curious what it was all about. I assumed it had to do with tourists and Greenwich Village and summer.
I snapped a couple of photos and went onto work.
_________(Click any image to enlarge.)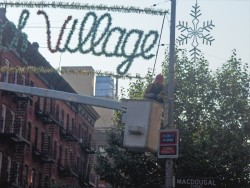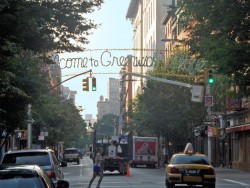 You can see that the Christmas star is attached to the "wreath"-like banner.
Despite this people walk around in summer attire.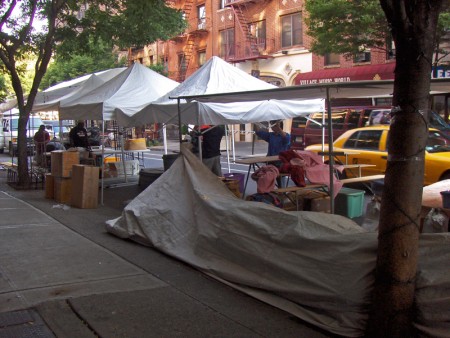 Then, yesterday morning at 7am I walked into the scene of people raising tents.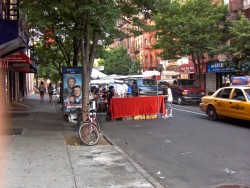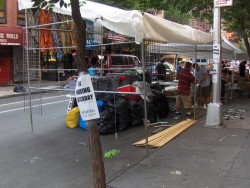 Workers are busy constructing their tents, working out of vans and trucks, busily building a small market which runs about four or five street blocks (about a ¼ of a mile.)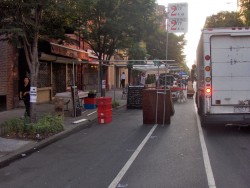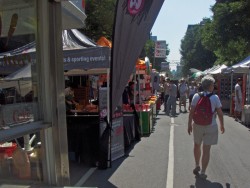 Here's a scene at 7am and again at 11am after things have opened.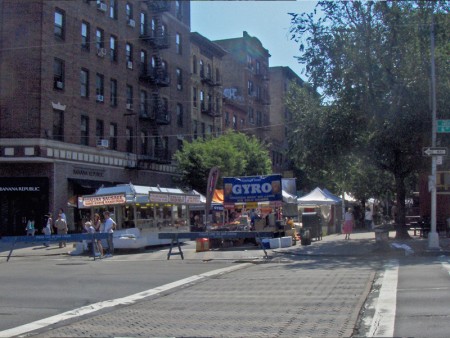 This is what Bleecker Street looks like from the other side of 6th Avenue.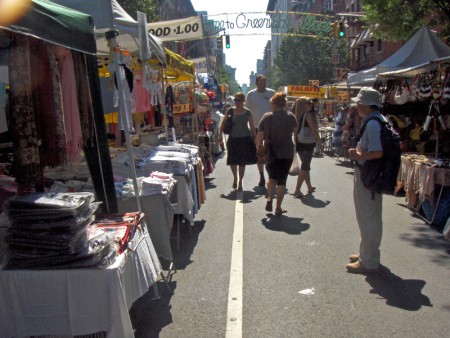 All summer long, New York becomes littered with street fairs and festivals.
Automobiles travel an obstacle course through the city trying to move in and around
these outdoor markets.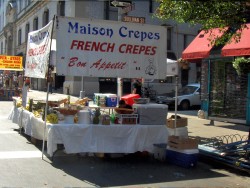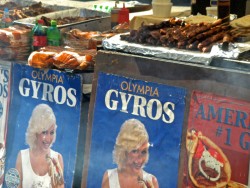 All sorts of food is the main attraction from crepes to gyros . . .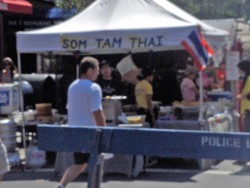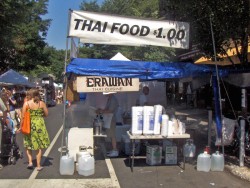 from thai food to . . . thai food.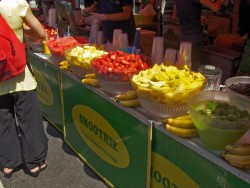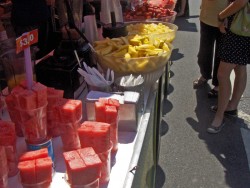 All this fresh fruit will add up to a lot of smoothies.
Anything that can be carried and eaten can be sold.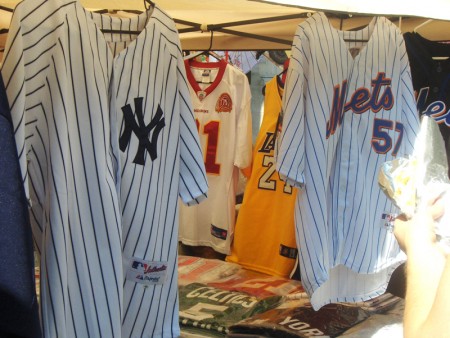 Clothing amounts to baseball shirts (where else will you find
Mets & Yankees side-by-side), scarves, belts or wallets.
Local stores join in by setting up a table and a tent
to sell samples of their merchandise.
Interestingly enough, I noticed last night that there was another one of these little market/festivals about five city blocks away. On the other side of Sixth Avenue at 8th Street (actually it's Greenwich St.) another group of tents were selling happily.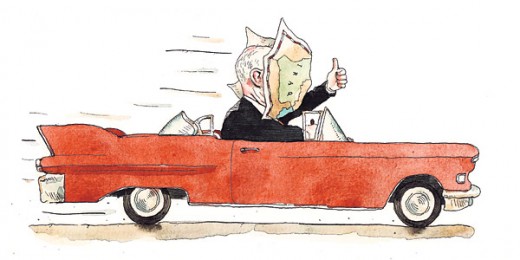 Just so you don't miss the current cartoon Barry Blitt (the cartoonist who did the famed New Yorker cover) printed in the NYTimes to illustrate Frank Rich 's Sunday column, I thought I'd post it (above). I hope McCain isn't trying to navigate around the street fairs of New York.
4 Responses to "PhotoSunday: Summer Fest"
Leave a Reply