Animation &Animation Artifacts &Disney 26 Aug 2008 08:17 am
- Following yesterday's display of a couple of drawings by Bill Tytla, I thought I'd post a couple of other xeroxed animation drawings I have from his work.
I wish I owned the exposure sheets. Drawings #67½, 68½, 69½, and 70½ all follow drawing #70 in its path of action. These are possibly an add on to the turn. They also may be part of a stutter he's set up: #67½ follows 67, 68½ follows 68, 69½ follows 69, and 70½ follow 70. This would give a peculair effect, and I don't think that's it. (Grim Natwick taught me that if you want that stutter effect do the full move, numbering the drawings sequenctially. Then you can throw them out of order on the X-sheets.)
I don't know, I've been trying to find the move in the final film.
Here's Grumpy turning.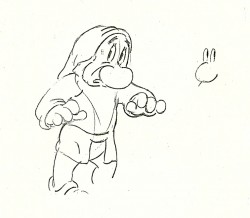 63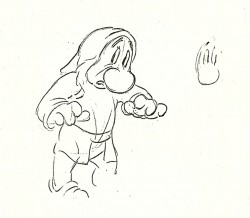 64
(Click any image to enlarge.)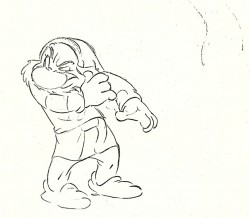 70½

Grumpy turns.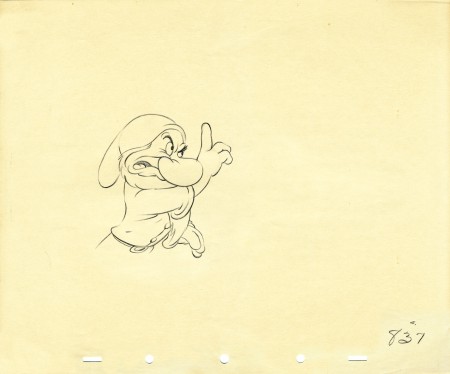 This is an actual animation drawing by Tytla that I own.
It's obviously from another scene. The size is a small 10×12.
If you click on the drawing it should enlarge to actual size.
5 Responses to "Tytla Grumpy"
Leave a Reply