Festivals 22 Sep 2008 08:25 am
Here's the last of my reports on Ottawa. I'll post photos later today when I have more time.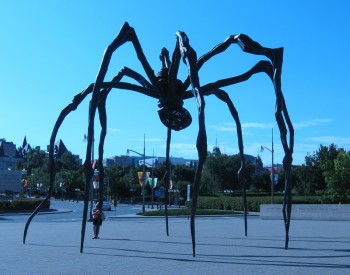 - Saturday in Ottawa at the animation festival was, for me, centered on my program/retrospective at 1pm. But first there was a conference at 11am which was moderated by Richard O'Connor (of Asterisk Pictures) about adapting other media to animation. Guests included David Polonsky, the art director of Waltz With Bashir; Frank Caruso of King Features Syndicate, who talked about adapting strips to animation; and me. The session was lively thanks to J.J. Sedelmeir's interesting questions from the audience.
The end of this session gave me barely 30 mins to run to the Museum of Civilization where the retro took place. Literally, I had to run to get there in time.
Fortunately, there was a decent group, with a lot of the New Yorkers represented. The films didn't feel quite right as projected on this screen in BETA format. They were overmodulated on the tracks and the images felt too contrasty. Probably the tapes; I'll have to check when they come back, though I remeember these same tapes looking good at MOMA.
All in all, I felt the show went well.
We couldn't get a bus in enough time to make the 4th competition screening, so I walked back to my hotel; a 45 min. trek.
That evening, I arrived early, at the same place, to attend the Richard Williams show. I got to say hi to Eric Goldberg, who I hadn't seen since early Pocahontas when Tom Sito toured me through Disney showing off The Lion King, which was in completion. It's been a while.
The theater was packed for Dick, and on every seat was a nine minute dvd sample of Dick's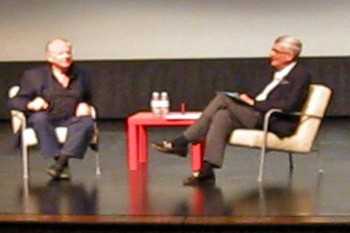 16 set masterclass dvd. John Canemaker had put together a nice program: the titles to Charge of the Light Brigade, some late commercials,a rarely seen trailer for The Thief, and scenes from the new set of instruction dvds Dick and his wife have produced. These dvd's look informative and entertaining. However, my favorite clip shown was footage of Dick following people walking in London. It
_________Dick and John a bit out of focus _________________was hilarious.
After the program, Dick and John Canemaker seemed occupied with throngs of people, so Candy Kugel and I went to dinner. We then walked to Barrymore's where they were holding a party at 11. There, we met up with Nancy Beiman and stood on line for about a half-hour. Eventually, we decided to blow off the party since there were only a lot of students on the long line; no one we knew. Those people would get there much later after the screenings, and we weren't up to the wait.
By now, both Candy and I were anxious to get home.
Sunday, I had another show at the Museum of Civilization, but I also had a plane to make. It meant getting through an intro to the films and rushing out to the airport without watching my program. At the airport I met up with John Canemaker, who turned out to be on the same plane sitting just in front of me.
We ate lunch in the Ottawa airport, caught the plane and rode into the city together. I'll meet up with John, tonight, at the Museum of Modern Art's program of Dick's work. It'll be a rerun of the Saturday show.
All in all, I'd say this was one of the better Festivals. The films were great, and in the end they really make a festival. Kudos to Chris Robinson and all those who were so helpful behind the scenes. And a special thanks to all the pre selection jury members. Great job done.
One Response to "Ottawa Wrapup"
on 22 Sep 2008 at 1:39 pm 1.Jenny Lerew said …

How I wish there were more big festivals on this end of the continent. I miss Filmex, where every year there were almost too many animation-themed programs to be able to manage to see them all-I'd have to pick and choose(and they were cheap tickets); in fact I saw what sounds very much like the same Richard Williams program there one year–the rare Charge of the Light Brigade sequences, the Pink Panther titles, the best of his commercials, his shorts, excerpts from Thief and best of all Dick himself onstage interviewed. That would have been I think when I was still in high school(and there was still a Filmex). Then we also had the Walter Lantz conferences they held at Universal and the AFI which ran for only two years, but where I got to see both independents and, one year, Eric Goldberg on a panel with Frank & Ollie discussing character animation.
Good times–and all over 25 years ago. : (
I wish I'd been there-but time, money, and the feeling I'd be utterly lost among so many name I don't know(yet) are all pretty daunting. I love your reports, though!
Leave a Reply