Daily post &Richard Williams 23 Sep 2008 09:14 am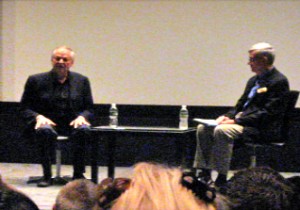 - Last Saturday night, in Ottawa, Richard Williams responded to John Canemaker 's questions about his career with enthusiasm and a pleasant grace. He knows how to tell a story and makes it good listening. On Saturday, he had an audience of animation people, and it helped to shorten some of his comments; no additional explanation was needed. The program went a bit long and had to be cut in the middle to give ample time for Dick to showcase his dvd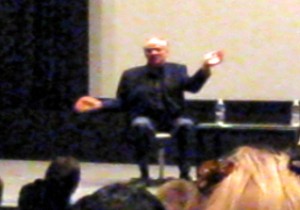 series – the Animation Survival Kit.
Last night, the show shifted to the Museum of Modern Art. More clips were added. (There was no Raggedy Ann on Saturday – at MOMA Emery Hawkins' Greedy was screened. There also was no scene from The Christmas Carol – at MOMA the flying over London sequence was shown.) The show was more relaxed and time stood still for a while. The crowd was a good one, and the ticket was hard to come by.
My favorite moment was at the start. I sat alongside Tissa David, who's 86 now;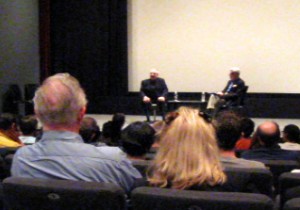 Dick, going down the aisle, stopped to say a very personal hi to her before getting on stage. He also came immediately to her after the show. Tissa hadn't seen him since her work on The Thief ended years ago. She'd told me the night before that she was going to the program because it might be the last time in her life that she'd have the chance to see Dick. She was tired immediately after and left once the program ended, not staying for a private MOMA dinner. _____________________Doug Crane (in blue) and Irra Verbitsky (to his rt).
The show had a lot more material in it and had a different feel than the Toronto program. Again, Dick and John sat knee-to-knee on stage, and Dick answered questions. However, there were fewer opportunities for Dick to elaborate with lengthy side stories. John pushed him always back on topic and shot a straight arrow to get all of Dick's career in.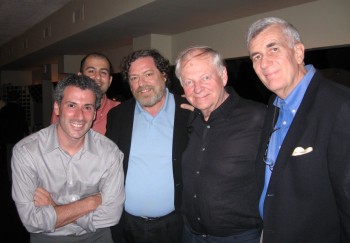 Afterwards, there was a dinner for some who were connected to Dick and his wife, Mo Sutton.
Josh Siegel, MOMA Asst. Curator, Department of Film, had arranged a nice sit down. Of course, John Canemaker and Joe Kennedy were there as was Chris Wedge and his wife, Jeanne, as was Amid Amidi and friend, Celia Bullwinkle, as well several others. Heidi and I sat a distance from
___________Josh, Amid, me, Dick and John _______________ Dick – three tables were gathered together, though he came over to say hi, and we talked again after food.
_
Sorry for the quality of some of the photos; it was the best I could do in the dark theater.
8 Responses to "Dick Does it Again"
Leave a Reply