Daily post 24 Sep 2008 09:04 am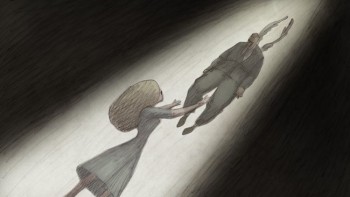 - I had mixed feeleings about last night's ASIFA East event – a panel of Independent Animators who had made feature films or were involved with features in progress. It was hosted by Cartoon Brew's Amid Amidi and featured panelists: Emily Hubley, Daniel Kanemoto, Bill Plympton, Tatia Rosenthal, and me.
- Bill, of course, has done six features. Idiots and Angels is the most recent.
- Emily had done a live/animation mix feature, The Toe Tactic.
- Daniel started a feature, Articles of War, ran out of funds after finishing a short – a part of the film – and is raising more capital.
- Tatia has finished a clay animated feature, $9.99, which is about to be released.
- I've done preproduction on a feature, Poe, and am still trying to put it together to get it into production.
The audience was overflowing with lots of people sitting on the floor. SVA students surrounded pros like John Canemaker, Candy Kugel, Don Duga, Irra Verbitsky, Bridget Thorne and many others. It was well attended.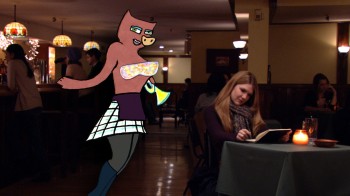 The disappointment for me did not come from the panel. Their comments and answers I often found elucidating and interesting.
Amid asked the nuts and bolts questions to get it going, and then he opened it to the audience who had a very large number of questions.
The problem, I thought, was that the questions were centered ENTIRELY on the nuts and bolts: raising the budget, spending the budget and organizing the budget. The fact is that there were a bunch of people who had some experience on the panel, and all anyone was interested in was how to get money. Maybe it's the mood of the country; maybe everyone these days is ready to do their own feature; maybe my head is too high in the clouds, and I thought there'd be more thought about the "Art" of it.
Feature films are completely different from short films. Timing is different, story is different, art direction & animation are different. It's all different. There were no questions about the actual art of the feature. I was a bit surprised at that.
There was no one who talked about constructing the story and making it a palatable feature. This has been the hardest part for me. Who wants to make a beautiful film that puts people to sleep – even if it is financially successful. It's really hard work, and I can't say how much I love doing it and wish I were able to jump in full throttle. (I will, of course, do it full time as soon as the check arrives.)
Perhaps the next panel will talk a bit more about the art and less about the financing of it.
The two stills above come from obvious sources.
Bill Plympton's image, upper Right, comes from his feature, Idiots and Angels.
Emily Hubley produced Toe Tactic. This is the still upper Left.
17 Responses to "Money Panel"
Leave a Reply