Miyazaki 26 Sep 2008 08:30 am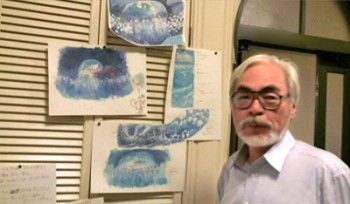 - Ponyo On the Cliff By the Sea is the most recent feature by Hayao Mayazaki. It has been garnering excellent reviews and has done extraordinarily well in Japan. There's currently an interesting article about it in the current issue of Time Magazine. If you haven't seen it, you should take a look.
The film took in some $150 million in its first 50 days in Japan. Only Spirited Away has done better there.
The Variety review, published when the film played the Venice Film Festival, was very positive.
Here's the Sept. 1st Times OnLine, **** British, review.
You can see the Japanese trailer for this here.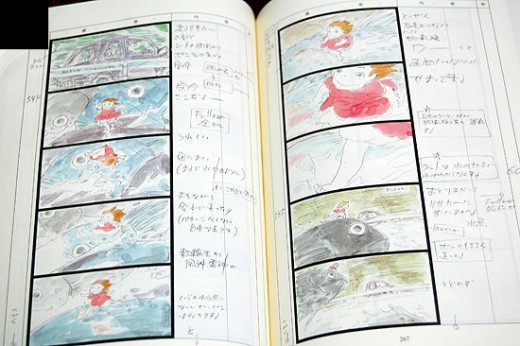 There's also a book of storyboards available; you can see a healthy sample on the blog, halcyon realms. The example, above, comes from this site. The color sample, below, also comes from this site which features a book on The Art of Ponyo.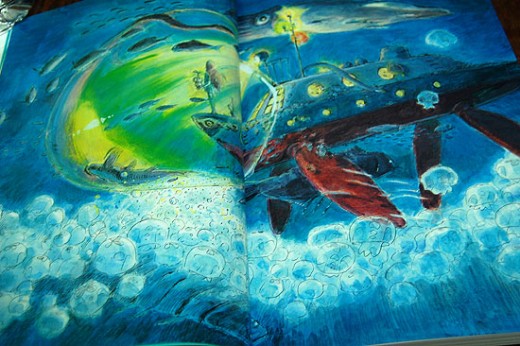 The film seems to be scheduled for a 2009 release in the US (probably June). Disney has the distribution rights; Frank Marshall & Kathleen Kennedy will be producing this version. The film is reportedly a kind-of reworked version of The Little Mermaid. Myazaki takes pride in the fact that no cgi was used in the making of the film.
______________________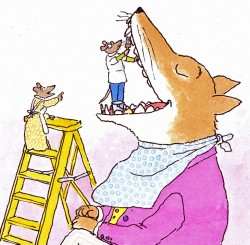 - To switch the subject back to me, there's a post on GEEKDAD which was written by Kathy Ceceri. The article talks about adapting books to film.
Kathy was originally an Asst. on my short, Doctor DeSoto when she was known as Kathryn Gradner. Kathy was a student at NYU (as was Robert Marianetti and Seven Dovas) who I met through John Canemaker. I was pleased to be able to work with them on this short.
I met up with her last year at an art gallery in Chelsea when she was preparing for an upcoming show of her work. She's left animation, had written and illustrated some children's books, and now she's written this excellent article. Take a look. (Included is a link to a site that shows how to make flipbooks.)
One Response to "Ponyo and Me"
on 22 Oct 2008 at 5:24 pm 1.Elliot Cowan said …

This is a film that played regularly (and still may do) on the ABC Network in Australia.
It was always on the morning with a block of other cartoons.
I was always especially fond of it and think about it often.
Leave a Reply