Daily post 27 Sep 2008 09:04 am
Server problems
If you find problems coming to this site in the next few days it's because we're changing servers. Please bear with us. I'm sorry for the problems.
________________
- Today's NYTimes has an article about Sylvain Chomet and his battle with Universal Pictures over credit in the feature, The Tale of Despereaux. Read these two paragraphs:
In both an e-mail message and a telephone interview this week, Mr. Chomet — who was fired as the director of "Despereaux" more than two years ago — accused both the studio and the film's producers, Gary Ross and his wife, Allison Thomas, of using his designs and concepts in the movie without acknowledging his contribution. It is a claim the filmmakers strenuously dispute.

Mr. Chomet's unusually open challenge may simply point to a gulf between European practices, which grant artists enduring "moral rights" in their work, and an American approach that says, in effect, a deal is a deal.

Sylvain Chomet
The article goes into more depth and is worth the read.
________________
- Ken Priebe wrote a review of the first SPARK Animation Festival which took place in Vancouver. Check it out.
________________
- There's a new blog on the ASIFA East site. Called The Exposure Sheet, it offers new comments on events attended by NY members. Initial comments are on Ottawa, Dick Williams at MOMA and the feature film panel at ASIFA East this past week.
________________
When I bought it, this drawing was sold as one from The Three Little Pigs (1933). However, I wasn't completely convinced and went searching. The image actually comes from The Big Bad Wolf (1934) as the wolf jumps into Grandma's house.
I'm not disappointed since I love this pose so much, and there's nothing quite like it in The Three Little Pigs. (Though I do like the original's one suspender rather than the two here.) Of course, a drawing of the wolf as the Jewish peddler would be priceless.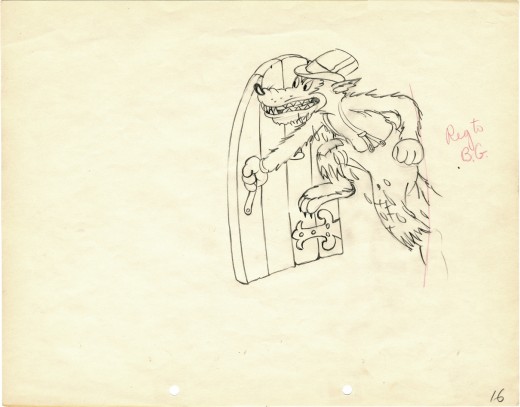 (Click on any image to enlarge.)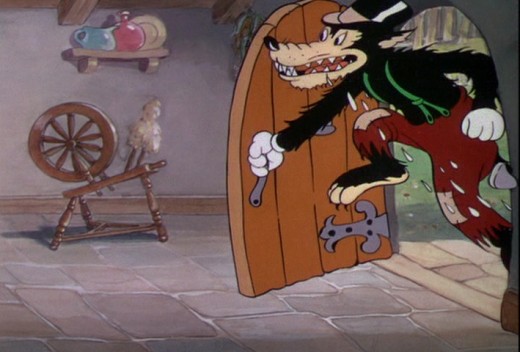 A frame grab from The Big Bad Wolf.
3 Responses to "The Wolf Enters"
on 29 Sep 2008 at 12:05 pm 1.Jerry Edwards said …

No problem with the delays in changing servors. I understand such problems are bound to occur when changing servors. I did get a few "exceeded bandwith" non-available but I check your site every morning and every evening.
Enjoyed your story of the art being listed for the wrong cartoon. I immediately noticed it wasn't from Three Little Pigs when I first saw it. I've noticed such misinformation quite a few times over the years and have even corrected the seller with the information for the correct source. In most cases, the seller didn't believe my info, although I'm an amateur expert in Disney animation.
I agree a drawing of the Jewish peddler wolf would be priceless. I wish I had the original 3 Little Pigs short complete. I do have the "original" that was accidentally released on VHS with other cartoons, but I don't have the original soundtrack since that release didn't have the original. I believe the original soundtrack was on the Milestones In Animation release but I don't have that to verify for certain.

on 29 Sep 2008 at 12:06 pm 2.Sunny Kharbanda said …

Good to know someone has the guts to take on the big studios.
That wolf drawing is great! Is it me or does the frame grab look a bit squished? Could be a pixel aspect ratio issue.
Leave a Reply