Commentary &Daily post 28 Nov 2008 09:25 am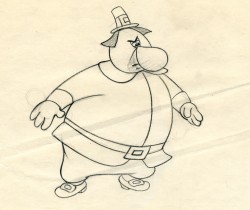 -Thanksgiving, of course, is a time for saying words of thanks. I thought it also a good day for admitting some recent things found on line that pleased me and for which I am grateful. So here are a few things that come to mind.
- As a big fan of Bobe Cannon's work, I was ecstatic to see a couple of his rough extremes on the TAG Blog. Boy I love the internet; bits and pieces like this would never have come my way otherwise. I have a few of his drawings from a scene from Moonbird, with inbetweens by Ed Smith. I'll post these sometime soon. ____________________Not by Bobe Cannon;
__________________________________________it's from Herky Jerky Turkey.

- I'm pleased to see a number of the children of great animation artists who have established sites to honor their parent's work.
I think of Roberta, Judy, and Jon Levitow offering us the site for their father, the brilliant Abe Levitow, or
the recent site hosted by Paul Spector for his father, the excellent artist Irv Spector.
Just today I heard from Peter Svochak that he's put up a MySpace page for his father, the fine NY animator, Jan Svochak.
I've established permanent links on my blog to all three of these memorial sites.

- There are a couple of videos that appeared in the last couple of days that encouraged me to feel that there is still art in the world of animation:
. I'm thankful for Cartoon Brew which led me to the films of Stephen Irwin. After seeing the first one on the Brew, I went to Irwin's site and watched all of the rest of them. They're all fine films, some are great. I've gone back to the site some four more times to watch the films anew, and all of them hold up for me. I urge you to check them out.

. I look forward to the NYTimes' posts of the monthly video by Jeff Scher. This month's film, Newscycle, is a good one – or, at least, I think so. It just went up this week.

. The Chicago Tribune also posts cartoons by Joe Fournier though the last one posted was at Halloween. Fournier's work is worth looking for. He employs a muscular drawing style somewhat similar to the work of Bill Plympton.
- Mike Barrier's site has gotten down to some serious nitty gritty of animation history. The photos he's been posting are just impossible to see elsewhere. (Where else could we have seen Walt in a gondola in Venice. He seems giddy, carrying an award he obviously won at the film festival, while his wife and daughter look sober – if not bored.) Mike's many years of committed study of the art is certainly paying off for the likes of me. I look forward daily to checking out any new posts on the site, and continue checking daily even when there's an announced break.

- Actually, the same is true of a couple of other sites that offer thoughtful discussion of the medium. Hans Bacher's site is a daily must see, as are Mark Mayerson, and Hans Perk. For a daily smile, Eddie Fitzgerald's site can't be skipped.

- One site feeds my love of NYC. Blather from Brooklyn is an excellent photo site hosted by Annulla. Her recent post on NY Prayer Booths,
was a gem. (The photo to the right comes from her blog.) These are street booths that could be mistaken for telephone booths placed around the city. My mouth dropped when I saw these photos. Annulla's wry sense of humor and love of the city can't be faked; it's wonderful.
I say a prayer daily in thanks that America has finally selected a literate, organized, intelligent guy into office. His recent optimistic statements have done nothing less than given Wall Street a reason to have a bit more confidence in the system. I look forward to more of the same once he gets started. Just think, he has no authority as yet, and still he's doing more than the fool occupying the White House at the moment. (For a while, I was begging god to stop Bush from making public comments on the economy. Every time he appeared, the market dropped precipitously.)
The future does look hopeful.
2 Responses to "A Bit More Thanksgiving"
on 28 Nov 2008 at 11:25 am 1.Paul Spector said …

All good things to be thankful for. Thanks for the new info on the Jan Svochak site — I hope it's a trend.

on 29 Nov 2008 at 5:38 pm 2.Kellie Strøm said …

Joe Fournier's Animated Chicago cartoons are great – thanks for pointing them out.
Leave a Reply