Commentary 03 Dec 2008 09:23 am
- The new dvd of Sleeping Beauty has prompted a number of opinion writings on the blogs. Many of them are thoughtful, but they're full of the usual ranting comments added on.
The most articulate of the cons is certainly Mark Mayerson 's "Sleeping Beauty Puts Me To Sleep."
The positive piece "Once Upon A Dream" appears on Brian Sibley's excellent blog.

As for me I understand both viewpoints, but I am an enormous fan of Eyvind Earle's work and having seen this film many many times I have grown attached it. I love the subdued nature of it all, the use of the Technirama camera, the stunningly attractive design, and some brilliant animation. It has a majesty and a formality to it that is unique unto itself. I frequently compare the film to opera whereas most of the others are musicals.
I once posted a piece (see it here) by Marc Davis wherein he compared animating Cruella deVil vs Malificent. He said Malificent was always giving speeches whereas Cruella was conversing with others. Two very different moods. That also, in a nutshell, describes the two films. 101 Dalmatians is chatty while Sleeping Beauty is presentational. Opera vs musical theater.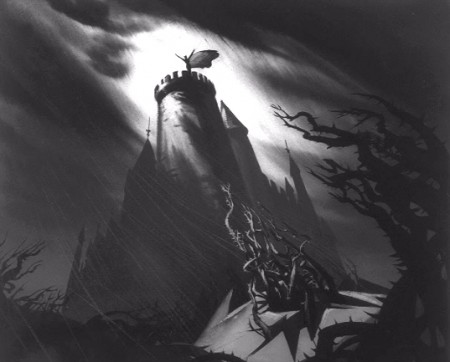 The film was born into struggle. The animation industry was challenged by a new modernity. The art was moving away from the 19th century graphics and into the 20th century. UPA wrought Toot Whistle Plunk & Boom which led to this film. Oddly enough, Sleeping Beauty aimed its art at the 15th century style of illustration; at least that was Eyvind Earle's aim in designing the backgrounds. Tom Oreb's character design was angled to try to work with the backgrounds almost as an amalgam between 15th & 20th centuries. For me, it works very well; others seem bothered by it.
I suspect that the general love of this film's style has strongly influenced modern animation. Pocahontas, it seems, took it's backgrounds directly from Earle's work.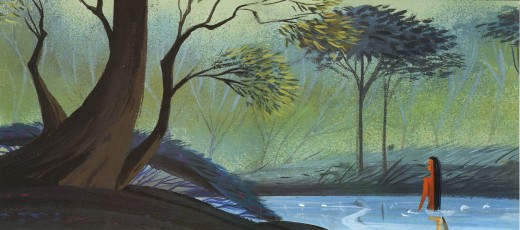 Pocahontas concept art by Michael Giaimo from the book "The Art of Pocahontas."
The angled squirrels, owls and other forest animals, appeared in many other Disney features & shorts. Those characters were perfect designs to build on, and, what I call the CalArts style, seems to have grown out of that. Angles not circles. Flash was ideal for angles; so was this design. And so it goes. (Or, at least, that's how it feels to me.)
- Speaking of Brian Sibley's blog, he has a fine piece on Eyvind Earle on his blog. His is a regular and enjoyable stop in my weekly internet reading.
4 Responses to "SB Pro & Con"
Leave a Reply