Animation Artifacts &Illustration 26 Jan 2006 08:12 am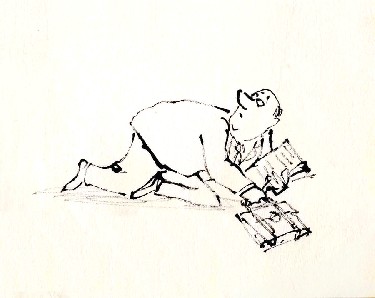 I decided to add another layout by William Steig for a different commercial.
I'm pretty sure it's also an Alka Seltzer spot, but I can't verify that. I do know it is an Elektra Studio spot, like the ones posted yesterday.
It was drawn using the same pen and is on rice paper, not punched.
Steig's artwork was especially strong after the '60s. By then the personality of his art certainly moved him into the forefront of national cartoonists.
He was an interesting man and led an interesting life. His devotion to the psychoanalyst, Wilhelm Reich, brought him and his artwork places they might not have otherwise gone.
Here, I quote the NY Times obituary for Steig:
"In the 1940′s, Mr. Steig discovered Wilhelm Reich, who became a psychological mentor for him.
"Mr. Steig saw Dr. Reich for therapy 40 times and credited him with saving his life as well as his mother's. He also bought an orgone box, a booth made of cardboard, steel wire and metal that is supposed to collect the world's orgone, or orgasmic energy. He sat in his orgone energy accumulator every day. He also owned an orgone blanket.
"Long after Dr. Reich died in prison, convicted of mail fraud for using the United States mail to sell his orgone boxes, Mr. Steig still believed he would be vindicated one day. In the 1950′s Mr. Steig illustrated one of Dr. Reich's books, "Listen, Little Man!" He also wrote "Agony in the Kindergarten," dedicated to Dr. Reich, about the repressive comments parents make to or about their children."
For me, this information brought new meaning to many of the Steig children's books – certainly some of those I adapted. I did the films with the same intention as the author regardless of the fact that I do not believe in Reich's theories.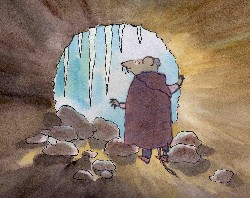 Abel's Island: In the middle of the winter, Abel takes refuge within his log and spends many hours meditating on his love for his wife from whom he is separated. The log, I saw, as Abel's "Orgone box" enabling him to emerge stronger and more capable of resolving his future.
The Amazing Bone features a pig, Pearl, who is captured with her talking "bone". They're locked in an enclosed room while they hear the wolf in the next room preparing the meal that Pearl is going to be part of. The long moments in the tight, enclosed room allow the bone to concoct a plan to overtake the wolf.
There's quite a bit behind most artwork, and the more we delve, the more we should be able to reveal – at least to ourselves. That was certainly true of most of Steig's work, and I try to bring the same intensity to every illustrator I adapt.
_
By the way, I've just learned how to place links in the stills so you can enlarge them when you click them. I'm a slow learner, but it gives a better look at some of the art, now.
One Response to "Steig too"
Leave a Reply