Articles on Animation 13 Dec 2008 09:28 am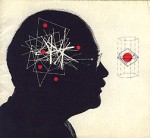 - In posting ads the other day, I found the one for the Goldscholl Associates (reposted below), a pair of animation producer/designers, Morton and Millie Goldsholl, who have been completely overlooked in this "new era." Mort was a prominent industrial designer who turned to film and commercials working with wife, and fellow designer/director/animator, Millie.
Trying to keep the memory alive, I went in search of any articles – even puff pieces I could find to give more info about them for those interested. I found this Millimeter Magazine article in their April 1975 issue about animation companies in Chicago. The latter half of the article was about several other Chicago companies, but my focus is on the Goldsholls.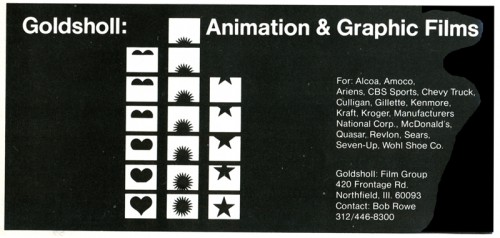 The Loop
bu Sherry Seckel
Historically, the first commandment of film production in and around Chicago has been that fat budgets go to the coasts and lean ones stay here. On the surface, that principle holds true for animation productions, especially in the area of commercials coming out of Chicago advertising agencies. But to say that the animation talent in Chicago is low-budget would do an enormous disservice to the producers and clients alike, many of whom are finding unique production capabilities right in their own back yard. In addition, clients from outside the Chicago area have discovered that the diverse talent and facilities here can make production in Chicago a matter of choice, not just necessity.

The most successful of such animation producers is probably Goldsholl Associates, located in the Chicago suburb of Northfield. What makes Goldsholl so attractive to national and international clients alike is their ability to take a project from conception through completion almost totally in-house.

At the top of the organization is Mort Goldsholl, whom Bob Rowe, Director of Sales, calls a true "conceptualizer." With an extensive background in design, award-winning Goldsholl has invented an optical lens distortion technique for animation which takes a two-dimensional piece of art and, in camera, makes it appear three-dimensional. Another revolutionary technique with Gold-sholl's stamp on it is his rotoscope animation, recently used in Gillette commercials. Working closely with Goldsholl is his wife, Mildred, who is a producer, director, writer and editor, also with a background in design. Animation Director is Peter Dakis and Production Manager is Tom Freese, a cinema-tographer known for his fluid head method used in Hallmark commercials.

Backing up the talented staff is sophisticated hardware to match. Along with a sound stage, 16mm and 35mm cameras recording equipment and editing equipment with Moviolas and a Kem is an automated Oxberry animation stand, designed by staff member Jim Logan.

After some 34 years in the business, Goldsholl Associates is firmly entrenched in its position as a consummate animation production studio. Says Bob Rowe, "Heretofore, if you needed a slick piece of animation, you had to go to the Coast or New York. We don't have a stable of animators and painters; we want to retain our uniqueness." Mort maintains that he does not want to be everything to everybody.
One Response to "The Goldsholls"
on 15 Jul 2009 at 10:27 am 1.Dan Bessie said …

Hi, I worked with Millie Goldsholl back in the 1970s, animating her multi-award winning film, UP IS DOWN. Immensely talented, both Mort and Millie were a great couple, eminently fair to their employees, creating marvelous design and (too few) films. One of the highlights of my life in animation was knowing and working with these wonderful folks.

Dan Bessie / danbes@volcano.net
Leave a Reply