Bill Peckmann &Daily post &Rowland B. Wilson 15 Dec 2008 08:50 am
- Here's a surprise gift from George Griffin. It's a studio caricature of the commercial studio Focus (this predates even Phil Kimmelman's own company, PK&A). I'll let George's own words inform us about it:
I came across this copy of a drawing by Bill Peckman you might want to share on your blog. It shows Bill's adaptation of Rowland Wilson's design into caricatures of the staff at Focus Design. Wilson had just designed a spot we had all worked on. Phil Kimmelman is the Mountie/authority figure and to the right, Sid Horn, Jerry Dvorak, yours truly, Victor Barbetta, Sal Faillace, Bill, Agnes Cannata and Jack Schnerk. The likenesses are very accurate but the character of each person was inverted: Phil was very sweet and easy-going, Bill and everyone else was very happy, not at all like these scowling toughs.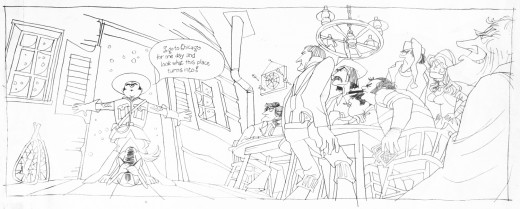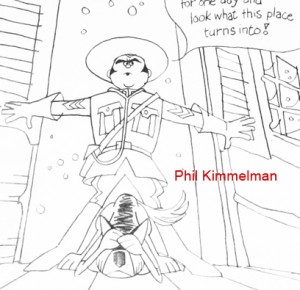 .
.
.
I've split the drawing up and used George's key to mark up and identify the people within the caricature to make it a bit easier to read.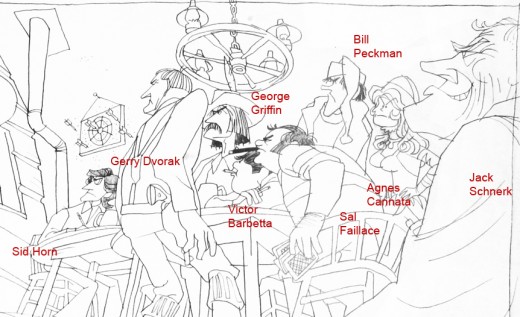 _______________________
Michael Barrier has just reviewed both Madagascar 2 and Bolt. His review, as expected, is from a singular perspective though I think he touches on thoughts we've probably all had. I look forward, always, to his honest comments.
And speaking of Michael Barrier, Kellie Strøm pointed to a Phil Kimmelman ad on the back page of Funnyworld 20. This was a comment on my Ads for Ad Companies post. Though Kellie links to the ad, I thought it worth post here on its own. It's a Rowland Wilson illustration.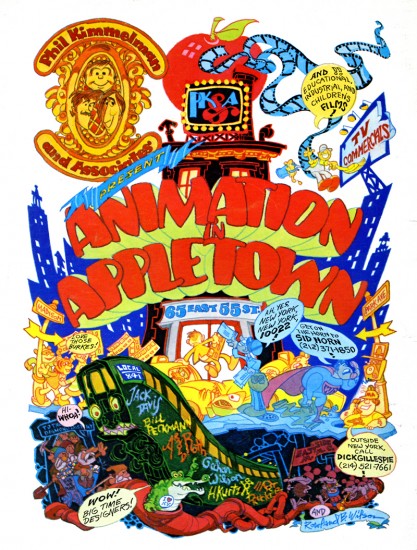 _______________________
A blog I've just stumbled upon is Ian Lumsden's Animation Blog. It's a British blog with some astute commentary; most of it involving British animated films. The posts on this blog have introduced me to several animators whose work I was unfamiliar with, and whose films I find worth watching out for. The most recent filmmaker under discussion is Ivan Maximov.
_______________________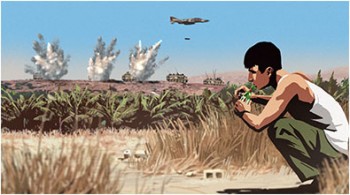 -The NYTimes, yesterday, featured an article about Ari Folman and his feature film, Waltz With Bashir. The film's about to be released this next week, and this is the start of the relatively small PR run. Here's hoping this adult film will be noticed by the Academy voters. This is one of two animated films eligible for Oscar nomination in the category of Best Animated Feature that is considered an Israeli film. The other is $9.99 now playin in LA and soon to be released in NY.
2 Responses to "Focus on Focus"
on 22 Dec 2008 at 8:47 am 1.Amid said …

Mike – Is Agnes Cannata possibly Dolores Cannata? I don't know. Maybe Agnes is correct. I've just never heard of her. Dolores was George Cannata Sr.'s daughter.

on 22 Dec 2008 at 1:30 pm 2.Michael said …

Hi Amid, I asked George and he replied with this message:

Agnes was married to George Jr. at the time but they got divorced and she has remarried and changed her name. She was a designer at Focus. I happened to run into her at a gallery a few years ago and she said she was a painter and had gotten out of the industry many years before.
Leave a Reply