Bill Peckmann &Daily post &Rowland B. Wilson 20 Dec 2008 09:14 am
- My piece, posted Dec. 6th, on Rowland Wilson brought a couple of responses via email.
Thanks to George Griffin, I was able to post a caricature of the staff of the commercial studio, Focus, done by Bill Peckman, in the style of Rowland Wilson. To remind you, let me post that drawing again here.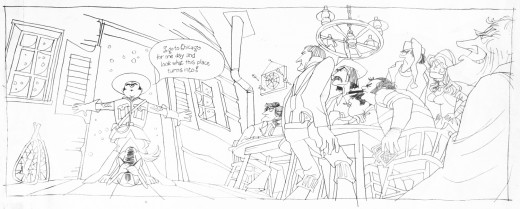 (Click any image to enlarge.)
This prompted Rowland's wife, Suzanne Wilson to send me this message in a note:
Enjoyed the Focus on Focus soooooo much!

Thought I would pass along the two Rowland B. Wilson originals that Bill Peckman's caricature was based on. (Love the "No Credit" sign in the Malamute Saloon!)
It's great seeing how Bill adapted Rowland's work, and I thank Suzanne enormously for sharing the artwork.
Then I heard from Borge Ring, who wrote a lengthy comment that was just great to read:
I knew Rowland Wilson well during the 1970s. We both worked at Dick Will1am's delightful London studio, often at the same commercials. Rowland was very good company, and his interest in the craft had as many antennas in the air as your blog which is my number one art gallery.

Rowland had fallen in love with animation and joined Dick's studio to follow Art Babbitt's lectures. He was intensely busy because next to his work for the studio, he drew well paid advertising cartoons – complicated ones – for a NY ad agency. He always came in early and he worked Sundays but rarely at night. "He said: "That which takes you three hours to get right in the night, you can do in twenty minutes in the morning"

Blake Edwards ordered a 5-minute title for his coming Pink Panther film. It got built "straight ahead" as it were, like at a story conference by a threesome: Dick, Rowland and Ken Harris. So Rowland based upstairs under the roof did a lot of stairs-running in the little old building carrying papers with ever changing concepts. Meanwhile Ken animated the Panther doing a tap dance with straw hat and cane, He confided that: " If the body movements are right, it does not matter what the feet are doing, as long as they do a lot." And Dick invented – among other things -how to do Black and White neonsigns for the occasion.

His business partner appreciated the creative euphoria but looked worried because: "Dick is going to spend all the money polishing the animation."

Rowland designed the famous VODKA commercial, you mentioned, on large celluloids using the broad side of his crayons. He also animated one of the scenes with a locomotive stoker in silhouette throwing a shovelfull of coals into the furnace. His draftsmanship made the short scene look like a piece of live action.

Rowland was helpful to everyone. I once saw him showing a young artist the difference between drawing Disney style figures and "New Yorker style" cartoons. "On the one you whittle away until you get it right. The other one must be there at first stroke, If it isn't right you don't whittle. You do a new one".

"Borg," he announced, sliding the door to my cubicle. " The client wants another broooad in thaare" meaning that there would now be four housewives instead of three in the scene. Rowland was a Texan and it was fun to hear this gentle person sound like Hopalong Cassidy.

Rowland cherished the company of Grim Natwick. "He certainly does", said Dick. "Because he and Grim can talk for hours about …ART. Grim is good, but he is full of bullshit."

Dick pretended to be allergic to "intellectualism". He and Art Babbitt shared an office. "Don't worry … Art is on a culture kick," he said with a grin. "He has been talking to me for months about a man he calls Moliere; and he hasn't found out that I don't know who that is".
Putting Moliere's comedies on film was an early dream with UPA when they started.

I think that Rowland's stint at Dick's studio was a high point in his career, and his girlfriend Skeesik informed us that, "Life is an acquired taste."

ps

Rowland and I were having Timsum in Chinatown, and I said: 'All you guys who draw cartoons in Playboy and the New Yorker. I suspect that your innnermost desire is to draw and paint with light and shadow like they did during the Italian Renaissance. You cannot sell Madonnas and Jesuses, so you opt for illustrating intelligent jokes in elite publications"

He stopped eating and gazed at me.
"Can YOU see THAT?

"Well. a blind chicken finds a grain once in awhile, my dear Watson." I said trying to hide my own surprise at having scored.

yukyuk
2 Responses to "Rowland Response"
on 20 Dec 2008 at 2:38 pm 1.Tina Price said …

Suzanne Wilson informed me of this great article and I wanted to let your readers know that Rowland's saloon piece is available to purchase at the CTN Artists Marketplace. http://astore.amazon.com/rowland.wilson-20/detail/B001J8EPVW

Michael thanks for all you do and Happy Holidays for the west side of animation,
Tina Price
The Creative Talent Network

on 21 Dec 2008 at 3:37 pm 2.Will Finn said …

Thanks Michael and Borg, for more on Rowland.

This looks like concept art for the old UTICA CLUB beer ad… I remember those TV ads well–the mountie one ended with a moose head on the wall singing and my baby sister loved that.

there was another one featuring pirates where on pirate asks the price of his ear rings. "Two dollars" her replies, "A buck an ear." I remember recalling these ads (which were local) to Rowland many years later at Disney and a big smile crossed his face.
Leave a Reply