Daily post 27 Dec 2008 09:21 am
The New York critics gave unanimously favorable reviews to Ari Folman's animated feature, Waltz with Bashir.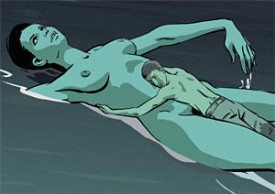 In his review in the NYTimes, A.O. Scott, wrote:
__"Waltz With Bashir" is a memoir, a
__history lesson, a combat picture,
__a piece of investigative journalism and
__an altogether amazing film.
The Daily News reviewer, Elizabeth Weitzman, giving the film four stars, wrote:
__There happen to be an unusual number
__of movies about war out right now.
__Few, if any, have the power of this __one.
Giving the film 3 1/2 stars, Lou Leminick in the NY Post wrote:
__"Waltz With Bashir" once again demonstrates that animation is not a genre but an
__increasingly artistic way to tell all kinds of stories.
J.Hoberman in the Village Voice wrote:
__Ari Folman's broodingly original Waltz With Bashir is a documentary that seems only
__possible, not to mention bearable, as an animated feature.
I saw Waltz with Bashir in Ottawa this past September. I did enjoy it – mostly for its story. I wasn't so enthralled with the artwork or the animation (flash, for the most part), but the presentation was strong enough to keep me from getting bored. There were some inspirational moments and some dull moments as well. It was a strong effort to use animation for something wholly different, and I appreciated that enormously. I guess I would have preferred it about 15 minutes shorter.
I saw The Tale of Despereaux this weekend and thought it was quite good. I thought the story was somewhat convoluted but felt the animation, graphics and, particularly the voice work, was excellent. The film kept me involved, interested and satisfied with the animation work. All of the characters felt attached to their surroundings and didn't float, as is too often the case in cgi work. Nor did the characters pop form position to position as you see in other successful animated features this year. As a matter of fact, they handled the human ones nicely. Princesses, dragons and the like were certainly superior to anything in the Shrek canon. This film is certainly worth a look. Well done.
_______________________
I enjoyed seeing some of the animators' cards on the various websites.
- Mike Barrier treated us to some of the earliest exchanges among the notables: Tex Avery, Hugh Harman, Rudy Ising, Friz Freleng, and Dave Fleischer's card to Paul Terry.
- Pete Emslie showcased a number of the many cards Ollie Johnston sent to him over the years.
- Bob Jaques offered a card Eddie Nolan sent out, and he reminds us of the link to the Dick Huemer site where many cards are on display
- The ASIFA H'wood Animation Archive gave us a batch of Disney cards from the late 40′s-early 50′s. (Look for the Peter Pan/Robin Hood card.)
- Steve Hulett Has posted a number of the stunning cards by his father, Ralph Hulett at the Animation Guild Blog.
- And, finally, Thad Komorowski has an early christmas card from Jim Tyer posted. He's also been posting some vinatage Carl Barks Christmas stories from Donald Duck comics.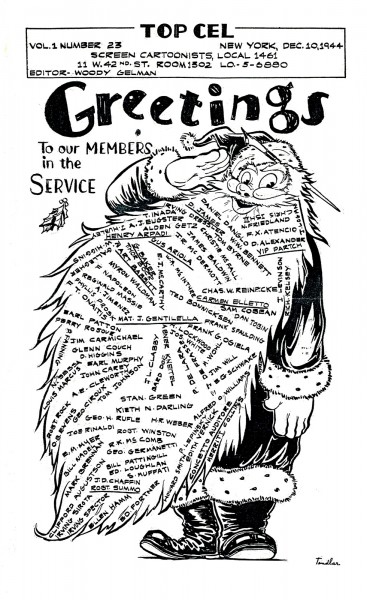 (Click on image to enlarge.)
I didn't post any old christmas cards this year, but would like to display, again, this Top Cel drawing done by Dave Tendlar to honor all the animation artists serving the country during WWII. To my knowledge, the only animator to die in combat was Willard Bowsky.
I originally offered it in Dec. 2006.
2 Responses to "Christmas Postscript"
on 02 Jan 2009 at 3:47 am 1.David said …

At least 5 Disney employees were killed as members of the Armed Forces during WW II and one of them worked in animation.

The December 20, 1940 issue of The Bulletin reported that employee Gerald James had enlisted in the Royal Canadian Air Force: "…six months ago he was flipping Rite of Spring in-betweens in room 16 of 1D…he was the first Disney man to lay down scripto for Vickers…The Bulletin has asked and received Jerry's story, which will appear as a series of several articles."

While visiting with his mother in Canada, James enlisted as a Sergeant in the R.C.A.F. James went missing while on a mission over Northern Europe.

A story in the 1943 employee newsletter Dispatch From Disney's indicated James had been reported missing from night operations. His mother said, "…He had just been with us for such a happy week's leave; enjoying every moment of it, and had only returned on the Friday. So far we have no letter giving more information, but we believe they were out on Coastal Command, bombing enemy shipping or laying mines in enemy waters."

As the Dispatch went to press, Disney staff learned through the International Red Cross that James' body had washed-up on the shores of Holland – "a country he had sought to restore to freedom."

on 05 Aug 2014 at 5:49 am 2.Carol Clink said …

great man! Thank you
Leave a Reply