Art Art 09 Jan 2009 09:20 am
- Paul Glabicki is an artist who started out as an animator and has moved away from the moving picture to the framed image. He's written to me about an upcoming art show opening in Chelsea this coming weekend.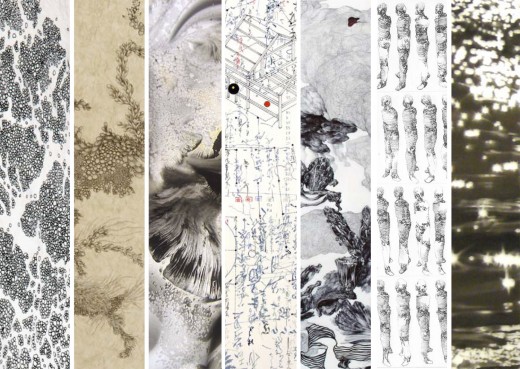 From the gallery's publicity release:Paul Glabicki transcribes each page of a 1930s Japanese accounting ledger as a foundation and underlying structure to create new images. Layered over each transcribed page are maps, calendars, counting systems, etc. – bits of incoming daily information.
Paul's letter to me tells about his transition from animation to the gallery world:
A break from animation a few years ago evolved into several drawing projects. The new work doesn't move, but has clearly evolved from all that has come before. The ACCOUNTING FOR series is an ongoing transcription of a 1930s Japanese accounting ledger, layered (or continued) with new entries/information of my own (I should have
30 works in the solo show, with 3 ledger pieces in the January-Feb group exhibit). Things may be set in motion again at some future point, but for now, I'm enjoying hand and pencil/pen on paper.
The show will open Saturday at the KIM FOSTER GALLERY
(529 West 2Oth Street / New York, NY 1OO11 / tel/fax 212.229.OO44)
Hours: Tuesday thru Saturday, 11am — 6pm
I've long been a fan of Paul's films, so I'm excited about viewing his artwork, and I'd encourage you to take a look as well.
Here are two more of the drawings on exhibit: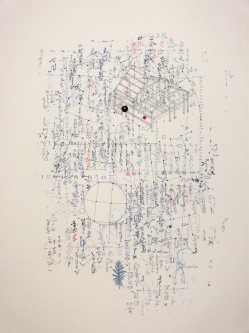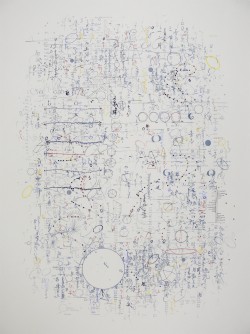 Accounting #4 | Accounting #18
____________________________
Christmas officially passed last Tuesday, Jan. 6th – sometimes called "Little Christmas", the feast of the Epiphany and the 12th day of Christmas. I took down the decorations in the studio today and as with past years spent a bit of time treviewing the many cards that were sent to me. (Unfortunately, I wasn't able to get out a card this year. There were pressured deadlines at work, and a health crisis for my mother at home. My time was so limited, Christmas became an after thought.)
However, I received so many beautiful and original cards that it's probably imprudent for me to select any for display. Just the same, I would like to point out a couple of them.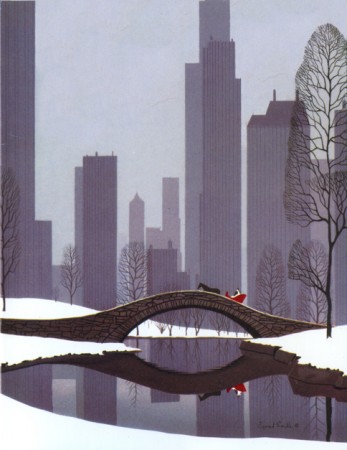 I'd received a card from a good friend which was printed by the Metropolitan Museum of Art. It's an Eyvind Earle painting of Santa in Central Park. It's a gem, as might be expected.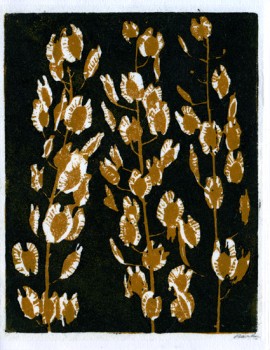 Dick and Harriet Rauh have sent their annual linoleum block print of floral patterns.
It's always a treat to get their card.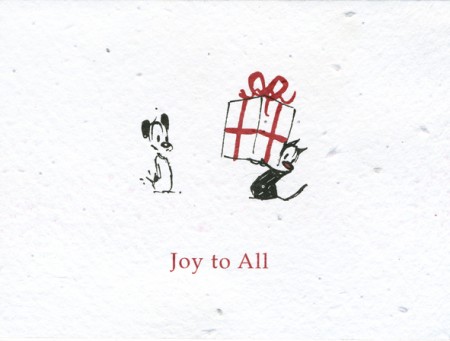 Patrick McDonnell sent a card that was virtually green. Seeds were implanted in the paper, and I've already planted the card in soil for the Spring blossoms.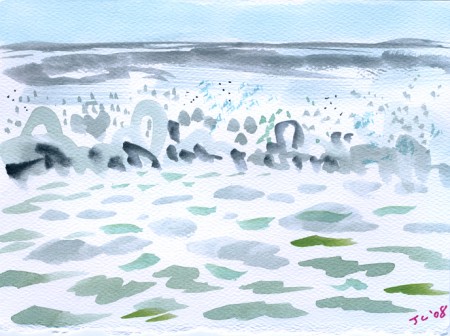 Finally, John Canemaker & Joe Kennedy sent us an original painting of the ocean,
bubbling and forcing its way toward us.
Leave a Reply