Articles on Animation 25 Jan 2009 09:22 am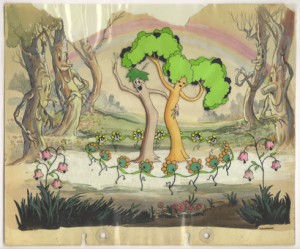 - History isn't always kind.
Here's an article from Modern Mechanix January 1932. Ted Eshbaugh seems to have invented the first color cartoon, or at least he thinks he did. (Wasn't Lantz' titles for The King of Jazz in two strip technicolor color in 1930?) Eshbaugh, out of Boston, began his series, featuring Goofy and Nanny Goat, in 1932. This was the same year that Disney reworked his in-production B&W cartoon, Flowers and Trees to three strip technicolor. He had secured the exclusive rights to this newly patented innovation. Perhaps this article pushed Disney into rushing this film into color production.
At any rate, Eshbaugh's film – and Eshbaugh himself – have been relegated to history's darker bin. The article's fun, anyway.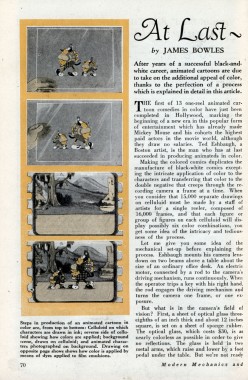 1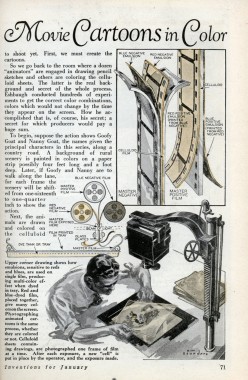 2
(Click any image to enlarge to a legible size.)
4 Responses to "At Last – Color Cartoons"
Leave a Reply