Daily post &Events 27 Jan 2009 09:14 am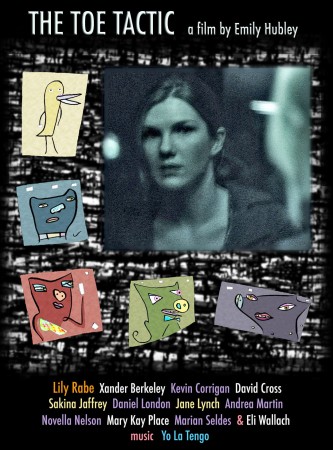 Emily Hubley's film, Toe Tactic, gets a solid and extended series of screenings at the Museum of Modern Art beginning this Wednesday, Jan. 28th and including several shows over this weekend.
The Toe Tactic. 2008. USA.
Directed by Emily Hubley. 85 min.
With the voices of Eli Wallach, Marian Seldes, Andrea Martin, David Cross, and Don Byron.
Wednesday, January 28, 2009,
___6:00 p.m.
Thursday, January 29, 2009,
___8:00 p.m.
Friday, January 30, 2009,
___4:00 p.m.
Saturday, January 31, 2009,
___2:00 p.m.
Sunday, February 1, 2009,
___3:00 p.m.
Monday, February 2, 2009,
___5:00 p.m.
________________________________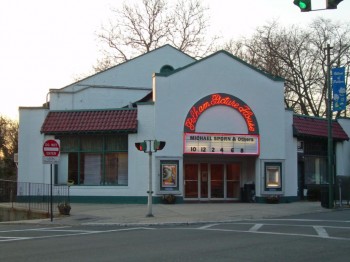 - Speaking of Emily Hubley, we were on a panel together this past Sunday at the Pelham Picture House in Pelham, NY (a half hour ride out of Grand Central). Other members of the panel included George Griffin, who moderated, Bob Blechman and Jeff Scher.
It was a very different kind of panel and I enjoyed participating in it. We were all New Yorkers (although Emily actually lives in New Jersey), all Independents and all concerned with the "art" and future of animation. From a long and well-established designer/producer to an experimental film maker who has learned how to make a living from his art fwe made a very diverse group. I was certainly honored to take part of it and thank J.J. Sedelmeir for getting me involved and the hard work of Andy Nichols and his team at the theater.
There were about fifty people spread out in the audience, and their questions and comments were quite knowledgeable. Only a small number seemed to have floated there from the city, but it was pleasing to note those who did. The day was cold and crisp, and the trip not a bad one – relatively short.
The program was part of the exhibit, It All Started Here! at the Westchester Arts Council Gallery in White Plains. This exhibit continues through February 28th.
There are also a number of other screenings and programs at the Jacob Burns Center Jan 27, Feb 5, and Feb 23. And a presentation on the History of NY Animation by J.J. Sedelmeir and Howard Beckerman at the NY ComiCon on Saturday Feb 7 at 4pm.
________________________________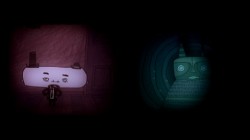 - A lot of attention was given this past week to the nominees for the Academy Award but not much has been written on the blogs about the nominees for Best Short Animated Film in the BAFTAs. These are:
CODSWALLOP – Greg McLeod, Myles McLeod
VARMINTS – Sue Goffe, Marc Craste
WALLACE AND GROMIT: A MATTER OF LOAF AND DEATH – Steve Pegram, Nick Park, Bob Baker
Varmints was on the Oscar short list, but didn't make it to the finals.
The Wallace and Gromit film wasn't entered or probably might have won. I think it's now ineligible having been shown on tv in England.
Codswallop is a film I haven't seen to date. You can view a clip of it here.
________________________________
Speaking of symbiosis, I posted an article from 1932 on my site last Sunday and a day later a couple of beautiful photos appear on Mike Barrier 's site. Ted Eshbaugh's publicity photos live on some 3/4 of a century later. Now that's a highlight – or maybe it's just history.
3 Responses to "Emily Hubley/Sunday panel/and BAFTAs"
on 27 Jan 2009 at 1:33 pm 1.Matt Jones said …

The Wallace & Gromit films have traditionally aired on the BBC @ Xmas & gone on to be nominated & win the Oscar. It should be entered next year.

'CODSWALLOP' looks intriguing from that clip u linked to. Finally someone makes use of that peculiar English expression!

on 27 Jan 2009 at 4:22 pm 2.Jenny Lerew said …

I really, really wish I could have been there.
Will Ms. Hubley's film have some L.A. screenings int he near future I wonder?

on 27 Jan 2009 at 6:24 pm 3.Michael said …

Any film that's aired on tv before entering into Oscar race is ineligible. Unfortunately, this now disqualifies the Wallace & Gromit film for next year.
Leave a Reply