Articles on Animation &Chuck Jones &Frame Grabs 11 Feb 2009 09:00 am
- John McGrew is a principal designer in the history of animation who quite radically changed things for us all. He led the way out of the 19th Century and, with Chuck Jones' blessing, pulled the art of animation into the 20th. Others followed or were running alongside him, but he left the first mark.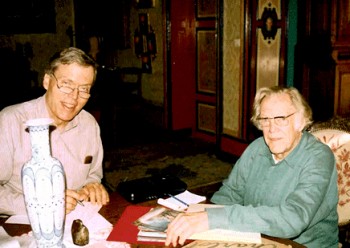 Mike Barrier interviewed McGrew in his studio in France in 1995, (photo right by Phyllis Barrier from Mike's site) published the interview in Funnyworld Magazine and has it now posted permanently on his website. If you have any interest in design in animation, you should have already read it. I just reread it for about the 15th time, and am amazed at how much history is packed in there. Go here.
McGrew, with his work on The Dover Boys and dozens of other brilliant cartoons, took animation into abstraction and back. His work, I think, is comparable to Scott Bradley's music at the MGM cartoons. Bradley was the very first film music (live action or animated) to incorporate Schoenberg's 12 tone serial music. McGrew didn't imitate Picasso or Steinberg, he created modern art in animation.
McGrew did his layouts in color showing the background artists what he wanted. He worked with strong designers, in their own right, painting backgrounds:Paul Julian, at first, and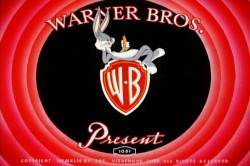 Gene Fleury after 1941. When he left the unit, during the War, Bernyce Fleury took his place working with her husband, Gene, on Jones' films.
Wackiki Wabbit is one of the most interesting of Chuck Jones cartoons.
Precisely because of the layouts and backgrounds. They're done in an abstraction that almost dominates the film, but actually serves to represent a world of foliage. The style uses cutouts and a wide range of techniques. Mcgrew probably did not work on this film; it came exactly at time of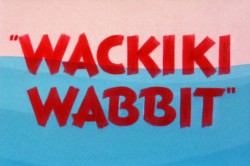 change when Bernyce Fleury entered the picture. McGrew, in the Barrier interview, says that he had never worked with her on a film. Her style seems evident throughout. Cut-outs mixed with the wallpaper-like patterns.
The film gives no credit to Layouts or Backgrounds.
I've made some frame grabs of the backgrounds (eliminating most of the characters – unless they were stationary) and
___ (Click any image to enlarge.)__________am posting them below.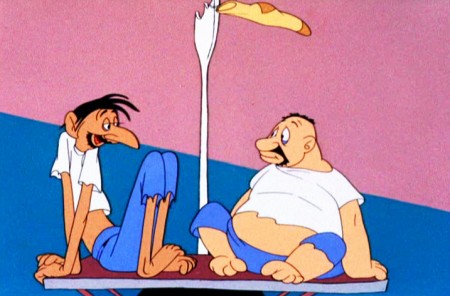 The film opens with tones of blue against a pink sky.
The two solidly drawn cartoon characters float in a sea of color.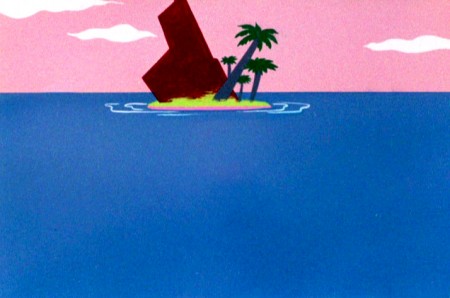 This is about as green as the Island will ever get.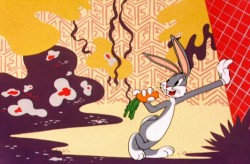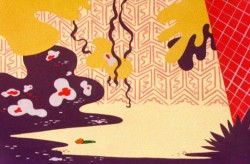 On the island, Bugs Bunny lives in a world of abstract foliage.
The colors are skewed – not verdant but warm.
Large masses of solid colors sit against brush drawn lines.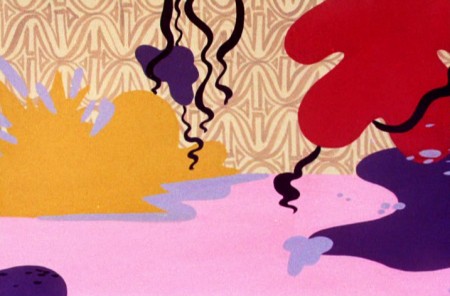 A limited number of colors allows the scenes to cut
without following through with any other consistency.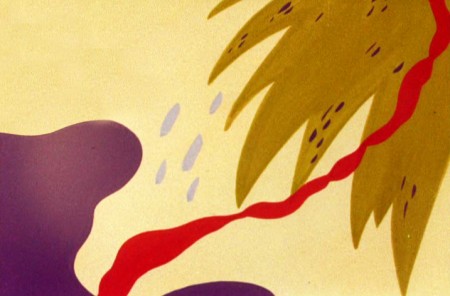 However, if you remove the characters, you're missing the center.
As it should be.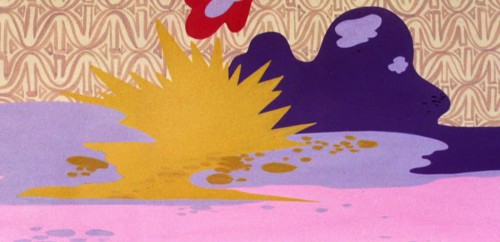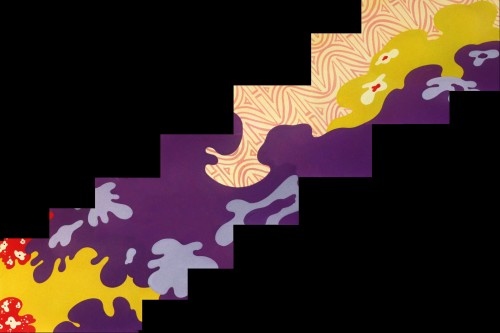 There are numerous large and fast pans,
this one a diagonal from right to left.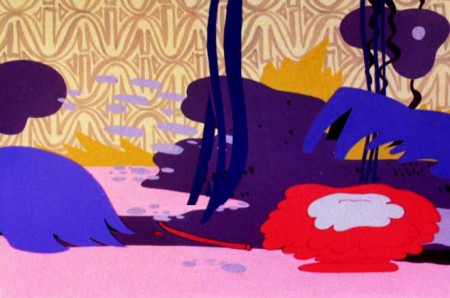 Some areas like the blue, above left, or the red, above right, animate.
The solid colors help them all to combine seamlessly.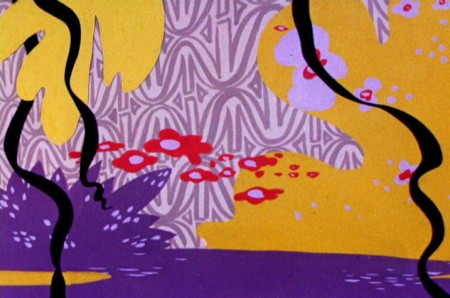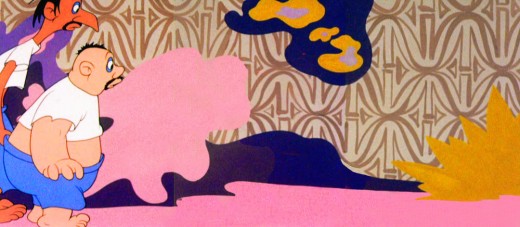 Bugs dances on the right, a pan
to the left reveals the two humans.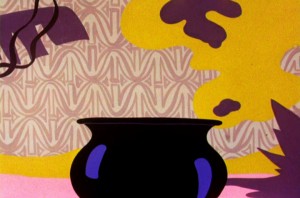 Cut from the pot to a quick pan high up in the trees.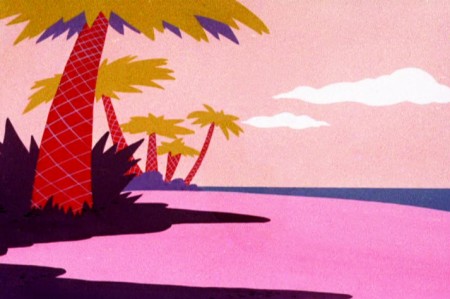 This serves as a sunset with our two humans
chasing each other into the distance and the film's end.

6 Responses to "Wackiki Art"
Leave a Reply