Commentary &Daily post 20 Feb 2009 08:52 am
- There were a couple of excellent pieces on the blogs this week.
. Hans Perk posted an exposure sheet from Steamboat Willie. It looks to be an amalgam of work by both Ub Iwerks and Walt Disney. It's quite amazing to view, and I couldn't be more in awe of the medium. You can see that it all was in place back in 1928; all that was necessary was for the artists to figure out how to use it. Of course, these days all that information has been thrown out the window for a vector version. Presumably, that'll eventually be better.
Hans' site, A Film LA, is a treasure for those, like me, who have a modest interest in history. (Here's an old post I did on Steamboat Willie & Iwerks.)

. Then there's a wonderful photo on Didier Ghez's great blog, Disney History. The photo celebrates Les Clark's 50th anniversary of working for the Disney studio. There are plenty of photos of those nine old men, as well as people like Ben Sharpsteen or Wilfred Jackson, but here's a picture that includes Claude Coats, Bill Justice, John Sibley and Xavier Atencio, among others. It's a good photo with these key animators in their prime.

By the way, scroll down a little on Didier's site and you'll see a curious and wonderful photo of Art Babbitt animating.
__________________
- The Oscars are this Sunday and I couldn't be less interested. Not many of the films were extraordinary this year, and even the animation choices aren't the best.
The animated feature category is missing a couple of fine films such as
Waltz With Bashir
, which challenges the medium (ever-so-slightly). Get a three-headed coin and flip.
Wall-E started well and went tedious once we were up in space. Lots of chasing about. I never quite bought the live action humans had turned into cartoon puppet-characters. The film, for the most part, to me, was too much like a Sc-Fi film; its animation tried to equal Jar Jar Blinks as opposed to Pinocchio.
Kung-Fu Panda had some very nice art direction, but much of the animation was too frenetic, lots of pop. Most of the characters moved similarly. If animated cartoons are going to feature a lot of punching and hitting, there's a good chance they'll lose me. The audience is the 16 year old boy class.
Bolt started with heightened stupid energy mocking action adventure movies. It settled down, but I never got emotionally invested. There was some nice movement and some nice art direction.
Nothing in any of the three stood out to me as exceptional. Perhaps it's my bias against the viewmaster style of a lot of these cg film. The first 20 minutes of Wall-E was done well so I'd probably vote for that film.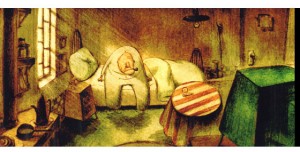 I've already talked about the animated shorts. My favorite was The House of Small Cubes by Kunio Katō (though I wonder why the Japanese short is known in the US as La Maison En Petits Cubes.) I found it the most complex of those nominated and actually felt some emotion the first couple of times I saw it. That's getting to be a rarity at animation screenings.
I like the film's art styling which nicely mirrors the subject, and I appreciate the labor that went into the 2D animation and rendering. It's a well done film and certainly one of my favorite shorts of the year.
My favorite short of the year was Skhizein by Jeremy Clapin. The film took a complex story into a new approach to cg animation combining 2D and 3D elements into a new style. I was a bit impatient watching it a 6th time, recently, but I still recognize its bold achievement. I wish the Academy had recognized it too, but I guess it wasn't "cartoon" enough.
__________________
- Tonight in LA, Emily Hubley will have two programs.
The first, at 7:30, starts out with her parents' films Tender Game and Windy Day, then one by her mother and several shorts by Emily. A chat with Jerry Beck will be followed by
a 9pm screening of Emily's feature, The Toe Tactic.
For a full schedule go here.
There's also going to be a screening of Hubley shorts on Sunday Feb. 22 at 3PM. It's part of the Redcat Children's Film Festival screening at Cal Arts. Included are:
Adventures Of An * (USA, 1957)
Urbanissimo (USA, 1968)
The Hole (USA, 1963)
Date With Dizzy (USA, 1958)
The Hat (USA, 1964)
Tijuana Brass Double Feature (USA, 1966)
Dig – Short Version (USA, 1972)
Tender Game (USA, 1958)
This program will be repeated March 5th at 3PM.
2 Responses to "Odds & Ends"
on 28 Jul 2013 at 7:55 am 1.Clariti Eyewear Konishi Ks1134 Shop said …

Now about citing this topic a number will accept it as it is real so its pleasant reading from a web guy thats posting content like this for us to think about!

on 06 Aug 2013 at 8:10 pm 2.Pj Salvage Skyline Park Flannel Pajama said …

Basically going through the OPs post numerous will resonate with the above as it's accurate so it is nifty finding a writer that's showing it online to read
Leave a Reply