Articles on Animation &Commentary 22 Jul 2009 07:12 am
I'd written this a couple of years ago and posted it then, but I thought I'd expand on it a bit.
I have my own, odd thoughts about animators – great, master animators – these are the only ones I'm talking about.
I think there are two types of animator. Both types, I think, are brilliant but I have my preference. Basically it's the same breakdown I have with live action actors: the difference between Laurence Oliver and Marlon Brando. Both are geniuses, but I'd go out of my way to see one of them more than the other.
One works from the outside in, and the other works from the inside out. It's Royal Academy vs. Stanislavsky.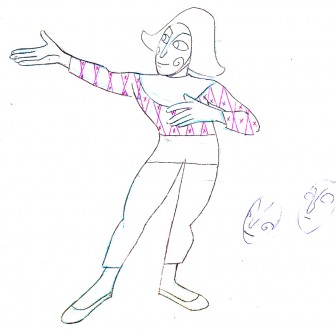 Animators:
- One is a brilliant mechanic of an artist who gets every pose every gesture just right. The movement of the character is perfectly flawless, the accents are always in the right place, the timing is perfect, and the weight captured is exact.
The character is developed but usually in a manipulated, studiously planned way. Usually, this animation, to me, is cold. Give the character a fake nose, and Laurence Olivier could be playing it.
(Art Babbitt, at the top of the triangle, is to me the model for this type of animator.)
(Babbitt dwng of Mime from Hubley's Everybody Rides the Carousel)
.
Then there is the emotional animator. The poses, gestures, actions of the character are emotionally executed by the animator as if this were the only way it could come out. The drawings are often violent and immediate – pencils ripping through paper and dark blotchy artwork.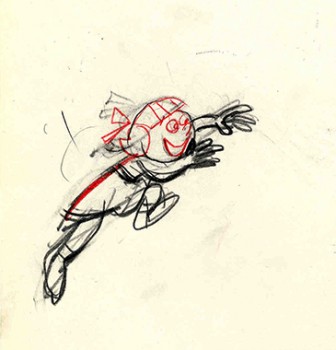 This animator often puts emotion above mechanics, but (s)he digs to the depth of the part to find a real living thing. It isn't always beautiful, but there's a gem of a character on the screen. Like any living organism it's unexpected and natural. Often this type animator works straight ahead (Does dwg#1 first, then #2,
(Grim Natwick, to me, is the prime example of this type.)
No, I'm not saying if you draw dirty, rough, violent drawings you'll be a great animator. I'm speaking somewhat metaphorically – although the two examples I gave actually did draw that way. I'm sure Art Babbitt did one or two rough,
(Grim Natwick drawing from a Mountain Dew spot.)________violent drawings in his life, but
__________________________________________________his animation feels tight, controlled, yet beautiful. Grim also did one or two clean drawings in his time – I have one, as a matter of fact, but his animation is controlled by his feelings, accumulated knowledge of craft, and emotions. It all feels immediate, spur-of-the moment. It's alive!
I've only ever watched animated films with this guide going in the back of my head. Mind you, also, I have enormous respect for both of these types; it's just that I prefer the emotional type. More than wanting my characters to think, I want them to feel.
My temptation, here, is to give the obvious list of animators and where they fall in my model, but I think for now I won't. CGI also fits into this mold, but it's not a great picture. I'm curious to hear what others think of this model.
__________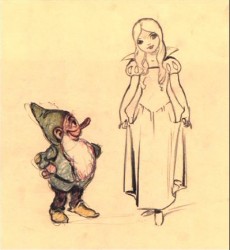 - I don't mean for this post to turn into a "praise Grim Natwick" nor a "put down Art Babbitt" statement. I hope it doesn't read that way.
As I've said in the past, I treasure the drawings I have that were done by Art. I study and love every frame of any piece he's ever animated. I just have more fun, personally – and I underline that word, personally, reviewing Grim's animation.
Marlon Brando wasn't a better actor than Laurence Olivier. They just came at it from different angles, and my preference has always been the more natural side of the acting world.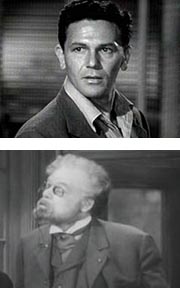 Back in the late thirties when the Group Theater was formed, these actors went to Russia to search out Stanislavsky, an acting teacher who preached at the bible of natural movement – getting in touch with your inner soul to project through the acting.
On Broadway, recently, was a revival of Awake and Sing. Clifford Odets was a member of the original Group Theater, and his plays reflected their "common man" attitude to theatrical productions. They weren't trying to do spectacles or Royalty plays, they were trying to project the "average Joe" back from the stage. It changed theater, created Arthur Miller and a whole breed of acting styles. Compare, ex-Group Theater performer, John Garfield's performances of the thirties with someone who was praised to the hilt back then, Paul Muni. Completely different acting styles – one natural and one overemotional and unrealistic.
The same was and is true of animators' performances.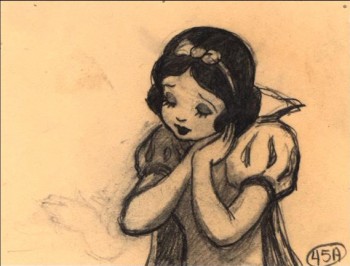 At Disney's, these guys took their animation seriously. Some, such as Fred Moore and Norm Ferguson, thought they had it right and continued their own paths. Some looked into Stanislavsky and rejected it; others adopted it wholeheartedly. Still others, such as Grim Natwick, did it naturally and always had. Just as in the theater.
Next time you look at Fantasia, try just watching the acting styles. There's nothing more Stanislavsky than Bill Tytla's scenes in Night On Bald Mountain, and there's nothing less Stanislavsky than most of the animation in the Pastoral sequence.
14 Responses to "Recap – theories"
Leave a Reply