Daily post 28 Feb 2009 09:32 am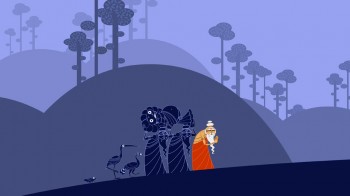 - Nina Paley's Sita Sings the Blues is getting some well deserved attention.
The NYTimes reported that the film would screen on New York's PBS station, WNET ch 13, on March 7th. But they didn't report that the PBS link would also offer the entire film for free on line. You can watch that now and here: Sita Sings the Blues.
The quality is excellent.
However if you'd like to see it projected, and you're in NY, the film is part of the
NY International Children's Film Festival. Yes, I did write "Children" in the title. As it turns out, there's an article now in the NYTimes which offers the thesis that the best children's films are not, actually, children's films.
The film will play today, Feb. 28th at IFC – 11am.
It'll play March 14th at Symphony Space – 1pm.
It's a hot ticket. Rush.
The sad tale of this film is the music copyright problems. That pushed Nina into some difficult decisions.
To quote a NYTimes article about this:
Because of an exception in the copyright act, public television stations can broadcast music without having to clear individual licenses, and "Sita" will be shown on the New York PBS station WNET on March 7, after which it will be available on the station's Web site. "My thing," Ms. Paley said in November, sounding glum, "is that I just want people to see it."

Recently, though, the licensing fee was negotiated down to approximately $50,000, and "Sita" is close to being sprung from what Ms. Paley calls "copyright jail." Still, she hopes to release it in a manner as alternative as her film. Using the free software movement — dedicated to spreading information without copyright restrictions — as her model, she has decided to offer "Sita" at no charge online and let the public become her distributor.
Unfortunately, that means it will not qualify for the Oscar next year. It's certainly better than any feature that was nominated on the most recent Oscarcast. I can pretty well wager that it'll be better than most of the next year's product.
If you're a Facebook fan, check out the "Watch Sita Sings the Blues" page.
If you appreciate/enjoy/love animation, you have no excuse. Watch it for free – on line.
_______________
One Response to "Sita Singing"
on 02 Mar 2009 at 6:56 pm 1.Ian Lumsden said …

Thanks for the link to a movie I have not seen before. And the explanatory detail.
Leave a Reply