Animation Artifacts &Commentary 03 Mar 2009 09:39 am
Kayvon Darabi-Fard wrote the following letter to me:
THE DOPE SHEET!!!

I'm a student, of animation in the UK seeking the answer to the neglect of the dope sheet. No matter how hard I try I can't seem to find a good reason as to why my classmates and production teams refuse to use the things.

It's not mandatory for us to use the dope sheet, but its seriously being ignored to the extent, some directors think its just time wasting or some kind of magical adventure only the technically minded pursue.

At the college I'm studying at, we're all broken off into production teams of around 5 people a team to produce a 2 minute short. I went round and had a look at what everyone was doing. Out of 11 teams, only one director was using the dope sheet system defined in Richard Williams Survival Kit, while the other directors and animators were either creating their own systems and methods, or just 'doing it'.

I was looking at the Steamboat Willie dope sheets you posted a few years ago. _____________X-sheet from UPA NY circa 1956
Even with music there's always a use there. All
I need to do is convince the other 150 animators and directors that it's not a lost cause.

After I found the one director who had an actual system (according to RW's), I found that he was using the dope sheet you use for your studio, tailored with the 400 frames on the one page.

Seriously, Do we change the dope sheet to 'appeal' to the new age of animators, or just crack the whip?

How would you go about teaching the dope sheet in education, and in the Sporn studio? What's the system, and what are your views on the argument in keeping it alive?

I know there's a war even with it becoming digital in things like Toon Boom and other CG applications, but what's your opinions when it comes to training and producing the work within 2D traditional animation?
My answer is that, YES, I do believe in "Dope Sheets" (or as they're known in the US, "Exposure Sheets" or "X Sheets.")
Pelican NY circa 1960
Because I was trained in using the X-sheet and
took a great interest in the differences these forms took from studio to studio, I amassed a collection of about 50 different sheets from varying studios. When I started my own studio, I took every element I thought key or helpful and put them all together on my studio's sheets.
They were all designed, (I'm talking visually) more for the camera operator than for anyone else, but the usefulness of these sheets is enormous. A large amount of information can be placed on these sheets, and the more sophisticated animator created artpieces out of these sheets.
The 400 fr sheet, you mentioned was a composite I put together from my standard X-sheet. An exposure sheet should have 80 frames per page. The 400 page sheet acted similarly to bar sheets for me, as a director, more than anything else. It gave me an overview of a larger bit of the track so I could plan the cutting of the picture.
You see, when you get used to reading X-sheets, you see them as time. You don't see the lines, you see seconds and footage, instantaneously. As an animator, you get an overview immediately of the scene; as a director you read the track, how the animator has constructed the scene, and what camera moves are indicated and why.
Of course, the real purpose of these sheets is for communication. If you're doing a film by yourself and don't think you need the sheets, then fine. But if you're working with other people, how else would you communicate what the track is doing or how the scene is constructed?
Certainly, as students, you should be obligated to learn how to use sheets so that you'll have the knowledge and the experience in your grasp. The more knowledge you're armed with, the better you'll make it in the real world.
With the advent of the computer, and as you mention programs such as Toon Boom (which employs its own version of an X-sheet,) studios presumably have reduced their dependence on such charts. Since I know how valuable these sheets are in relaying information, I've kept them up in my studio. The sound track is read on the prepared sheets. I don't demand that anyone fills them out – certainly not when many animators today are developing their animation in the computer – but the sheet gives an excellent way to plan the scene, and the animators can take that information and use it as they like.
In studios of the past, a folder was designed. X-Sheets, when folded in half would sit neatly into the folder (and often be stapled into it) so they would always stay with the scene and not get lost.
I don't quite know how other studios transfer such info from person to person and keep any oversight on the film as a whole, and your question raises a curiosity that sits in the back of my mind. How does a PIXAR or DREAMWORKS deal with such track readings and director's notations? Is it all digital or do they actually have a form of X-sheet? If anyone out there knows definitively, I'd be curious.

The UPA NY sheet pictured above, is well designed except for the fact that it
does not include dial numbers. I guess someone can write out all the
numbers, but it doesn't quite make sense to me.

The Pelican sheet includes the dial numbers, but it'd be nice if they were
also alongside the soundtrack area.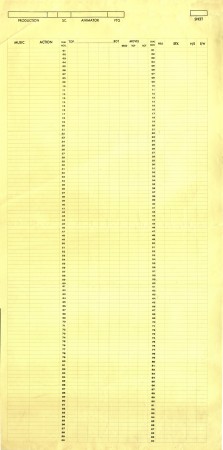 .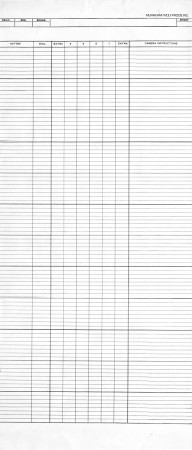 Shamus Culhane Prods circa 1972 | Murakami-Wolf Prods circa 1974

The Culhane sheets are designed for 100 frames per page. I've never understood
this calculation. If you do an 80 fr. page, you get five 35mm feet or two 16mm feet.
100 frames gets you nothing but an even number.
There are also no lines on the page making it harder to read.

The Murakami-Wolf sheets include 96 fr. per page or six 35mm feet.
These sheets are also unruly in their length.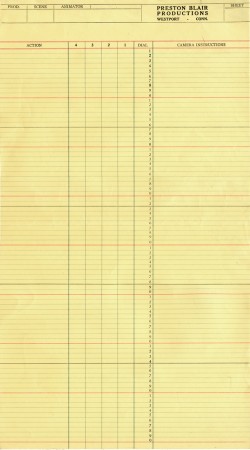 .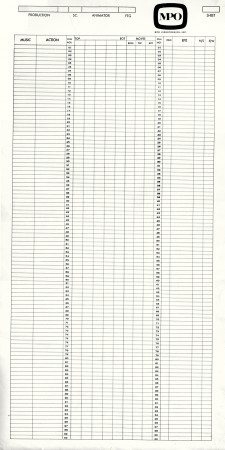 Preston Blair Prods circa 1967 | MPO Prods circa 1970
The Preston Blair sheets are close to perfect except for a red line that was added
at every tenth frame. What use is there for it?
The MPO sheets have no lines and are confusing.
They're similar to Culhane sheets but a bit more legible.
I have more of these sheets, but I think this may interest only me.
I once spoke to my staff for about 2 hours about exposure sheets. Interestingly enough,
I didn't have to wake anyone at the end of the chat.
I'll have a bit more to write about this soon, when I pull it together.
32 Responses to "Dope Sheets"
Leave a Reply