Animation Artifacts &Frame Grabs 27 Mar 2009 08:05 am
- Cable TV has changed and not for the better, just toward the more corporate. In the old days you could turn on the Disney channel and catch some Disney animated shorts – the classic kind, not the Flash kind. You could see some of the 60s Paramount cartoons on Nickelodeon. You could tune into TNT and see early MGM cartoons. Today, if you're lucky, you might see one of the more popular Harman-Ising shorts sandwiched in between two late-Droopy cartoons on Boomerang's MGM show.

(Click any image to enlarge.)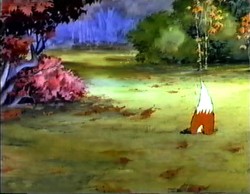 I was a big fan of those Harman-Ising MGM cartoons. The sheer opulence of the productions was staggering to watch. For over a year, I taped an early morning program on TNT trying to grab all of the Harman-Ising shorts they aired. I was able to capture about 90% of them. It's unfortunate that no DVD has been released of these gems so that collectors like me can feel satisfied. The Turner transfers were pretty good, and a simple DVD release of these would be worth a lot to me.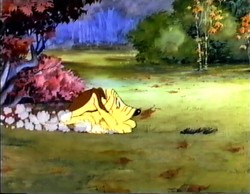 Not too long ago, I was able to buy a couple of drawings on ebay from the Harman-Ising shorts. There wasn't much competition for them, and I was able to afford them.
One drawing is from the odd series featuring the "two curious pups." I had an old Blackhawk 8mm copy of this short (in an edited version) and would run it back and forth still frame. I've captured some stills of this very scene to give you an idea of what's happening.
The Pups' Picnic (1936)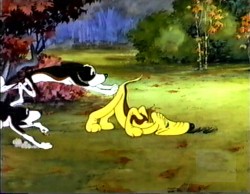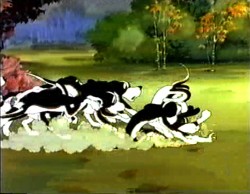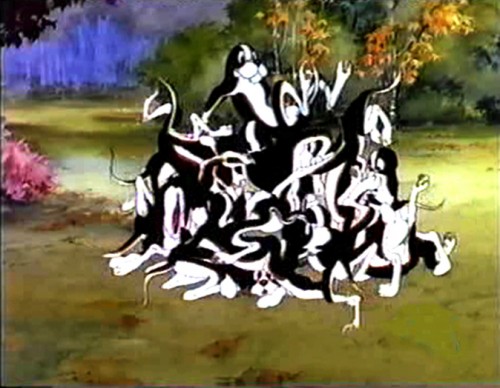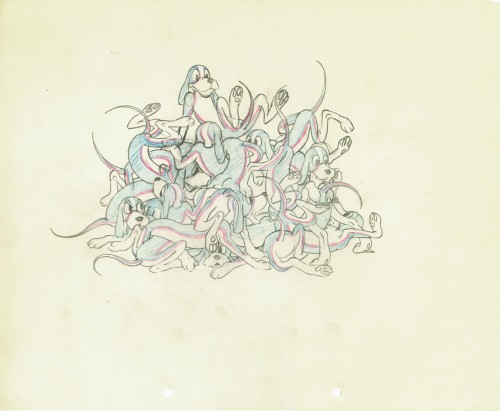 I don't know who animated this scene,
but the drawing is a beauty, as far as I'm concerned.
The paper siize is 9¾ x 12 w/two round holes.
4 Responses to "MGM Hounds"
Leave a Reply