Commentary &Daily post 28 Mar 2009 08:17 am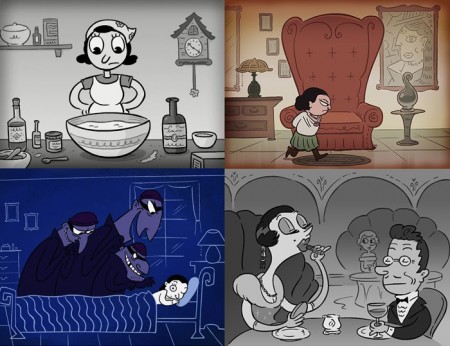 - Last Monday, PBS premiered a documentary on two women entrepreneurs — Elizabeth Arden and Helena Rubinstein. The Powder and the Glory features a number of different film clips and interviews and also several animated sequences done by Animator, Bob Flynn. He created several sequences for the film done with the help of those at Fablevision.
The program will air in New York on WNET, CHANNEL 13 today, Saturday, March 28, at 1:30pm.
You can see some of the animation here. It has a distinctive style and works well within the program. I particularly liked the sequence wherein Helena Rubenstein is robbed. The style is a bit reminiscent of James Thurber's art.
_________________ >

Hans Bacher has the post of the week that excited me most. On his site, Animation Treasures, he's taken some Background layouts for Bambi and has placed them alongside their finished Backgrounds. The comparison is amazing and deserves your attention.
How many times have we seen animation drawings compared to the finished cels? Here are some brilliant designs in execution. Hans also talks a bit about the painting of these stunning Backgrounds on glass.
By the way, if you don't own Hans' book Dream Worlds: Production Design for Animation, get out there an buy it or demand your local library carry it. The book is an essential for those interested in pursuing any career in animation. Or even those who have a strong interest in the medium.
_________________ >
- John Schnall sent a recent ad he did for Bzztrust, a business website. He asked that I post it, and it's expectedly funny. So why not!
_________________
- Brian Sibley, on his very entertaining and informative site, has posted several excellent pieces about Alice in Wonderland. One includes a history of Snap, Crackle and Pop (there is a connection) that deserves your reading. (If anyone can identify the studio that did the British Alice commercial, please let me know.)
Brian posts a clip from a Jonathan Miller version of the story that I was not familiar with. The fact that Alan Bennett appears as the Mouse was enough for me to order the film.


Yes, that's Peter Sellers as the king and Wilfred Brambell
(Paul's father in A Hard Day's Night), as the White Rabbit.

Other cast members include:
Michael Redgrave (Caterpillar), Leo McKern (Duchess),
Peter Cook (Hatter) and John Gielgud (Mock Turtle)
7 Responses to "Bric and Brac and Clips"
Leave a Reply