Books &Disney &Mary Blair 14 Apr 2009 08:16 am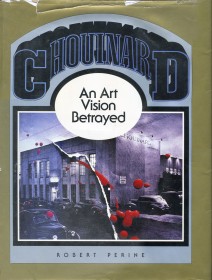 - I recently came upon an excellent book, Chouinard/An Art Vision Betrayed by Robert Perine published in 1986. This book is the history of the school that would become CalArts.
I suspect it's more familiar to those on the West Coast than we on the other side of the continent. Regardless, the book well documents the connection between this art school and the Disney studio, particularly in the early days.
Here we're treated to a good history of Don Graham, who led the Disney classes for Walt during the '30s expansion movement. We also come upon students and teachers including all the famous names: Phil Dike, Virgil Partch, Hardie Gramatky, Retta Scott, Mary and Lee Blair, Ward Kimball and many others. We're also treated to photos and artwork by these people. We also see a clear picture of the school's founder, Nelbert Chouinard.
I've pulled a couple of photos and art pieces and a couple of paragraphs from the first chapter which I thought worth sharing.
I made a deal with some of the teachers at Choulnard to come out and work with me, to sit with me by the day and know my problems. That, In turn, gave them the chance to know what we had to work on. They sat tight In the room with me; I picked Graham because he was more Life . . . figures and movement and things . . . simplification. So Graham sat with me In what we called our sweatbox. Fifty percent of my time was spent In the sweatbox going over every scene with every animator.

The sweatbox was an un-insulated projection room which Walt describes as "hot as the dickens," where animators would come to sweat out Walts approval of their latest attempts. 'They used to dread comin' in… I'd just tear hell out of'em," but this was all part of the learning process as both animators and studio head ____________Walt at Egyptian Ball – 1956
worked out the best solutions for making the
moving figure work. So Graham was soon a part of this process and carried Walt's ideas back to his classroom.

Reciprocally, a bit of Graham (and Nelbert) rubbed off onto Walt as they worked together on the problems of animation. Said Walt:

I set up a whole new thing (which Is) having Us effect now among the artists. We think of action. We think of drawing for action. We call It action analysis. You draw from a static figure when you're In Life class. And your model's sitting there. You're draiumg the spinal column … the whole anatomy… _______Don Graham on the porch of the 8th St. School
but you don't get any feeling of action.

So we have the model go through actions. She goes through It and then.. .sits over In the corner.. .and they sketch what they saw. What you see here (Is) not a literal copy of something. It's.. .the Illusion you get.

Even before Walt had come to California — when he was only 19 — he had frugally photostated Muybridge's now-famous movement photographs out of a borrowed library book, then cut them up and overlapped them in an attempt to analyze motion. But now it was a new kind of challenge — doing it with drawing. Walt further describes that challenge:

We've got to analyze the walk. So we would then photograph people going through actions… then we would study It. There were a lot of things I was able to get over that way. You'd have a running action. We'd draw. (It'd) be perfect because (we'd) be looking at that drawing Individually on the drawing board. (But) It doesn't look that way; that's what gave us stiff animation. Then we got the trick of blurting.. .In effect, elongating. When you're moving fast Is when the action begins to take on a smoothness.. At wasn't numbers of drawings. It's how drawings are made.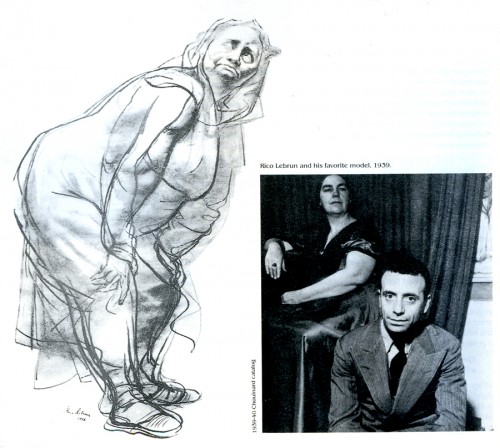 Rico LeBrun (who taught animal anatomy to the animators
at Disney during the making of Bambi) and his favorite model
The ideas that developed during Disney's training period (1930-1940) were greatly aided by Don Graham. Eventually Walt hired him at Disney Studios as head of their own night school. So Nelbert's influence and ideas were carried out into the professional world. In the animation industry alone Chouinard students and teachers like Graham, Dike, Caldwell, Davis, Gramatky, Fleury, Johnstone, Lebrun, Lee and Mary Blair, T. Hee, Plummer, and many others became important stimuli to the successful growth of the animated film.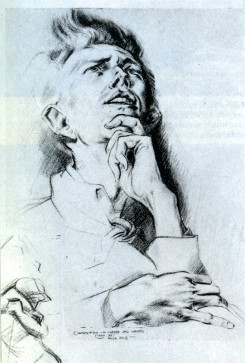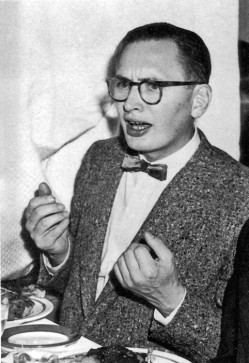 A drawing by Retta Scott | Virgil Partch at a Guild Meeting

The book is a treat. I'll add more to this in a future post.
11 Responses to "Chouinard the Book"
Leave a Reply