Articles on Animation &Festivals 20 May 2009 07:45 am
- Back in 1972, a month after I first started my initial job in animation, New York hosted the First NY World Animation Festival.
I had never been to a Festival of any kind before, and it intrigues me, as you might imagine. There were quite a few world famous animation figures that actually came to town to present their films, talk to other animators and shine.
This was an event that was created by the entrepeneur, Fred Mintz. All I knew of him was a joke Tissa told me. She, a Hungarian, said that Fred was a Roumanian, and the old story was true: if you went into a revolving door behind a Roumanian, you should check your wallet when you come out. Of course, this was a joke, and Fred turned out to be a nice guy who put a lot on the line to get this notion of a NY Animation Festival up and running.
In fact, there were three annual editions of this fest, and I went to all. I met quite a few famous International animators by just showing up.
For some reason, I haven't been able to locate the program for this first festival (I do have those for 2 & 3), but I found this article in Backstage, which was a commercial Industry newspaper. I'm posting the cover story from this issue and hope it will be a some interest.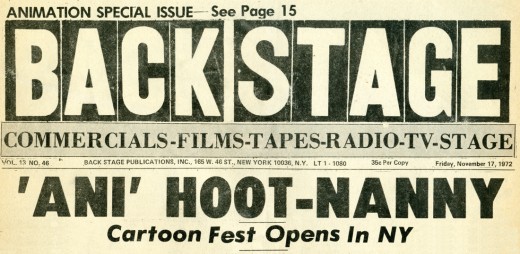 (Click any image to enlarge.)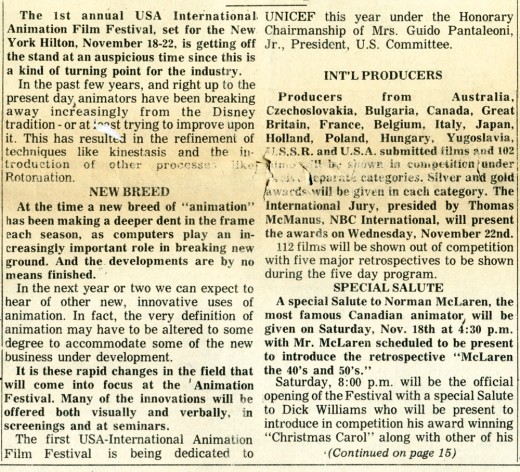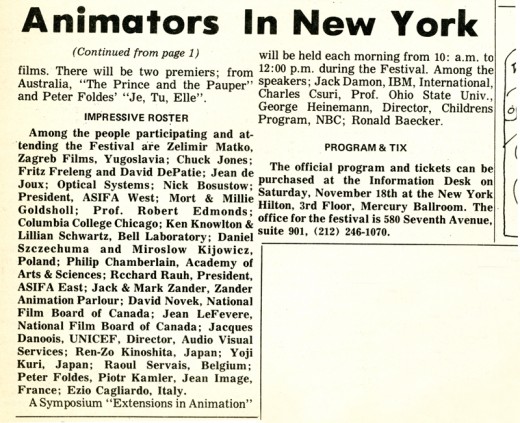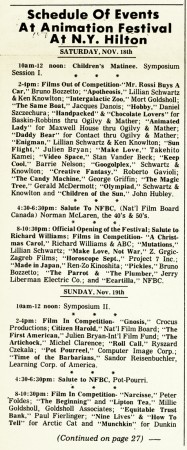 .
.
This was the first time I met Bruno Bozzetto, Yoji Kuri, Millie Goldscholl, and many others. I have to say that I didn't meet a lot of New York animators. At the time, people in the industry stayed away from such events. The older Paramount/Terrytoons crowd wasn't interested in animation outside of work.
I did meet up with a few of the more art-interested people like Tissa David (who I had just met at Hubley's), Lu Guarnier, John Gati and a few others.
The events were well attended. Not as many students as there are today, but there were some.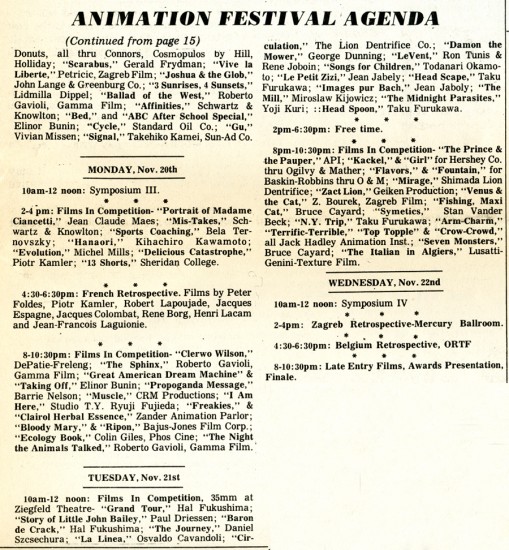 4 Responses to "1st NY World Animation Festival"
Leave a Reply