Animation &Art Art &Independent Animation 22 May 2009 08:34 am
- Here's a booklet that Karl Cohen sent me, the catalogue of an exhibition of Joanna Quinn's stunningly beautiful drawings for the National Media Museum in Bradford, West Yorkshire. This show will be held from October 16, 2009 – February 21, 2010. The catalogue has me watering at the mouth and gets me wondering if I can visit this show.
Perhaps there's some venue in the US that would be interested in proogramming something so attractive and valuable.
Take a look at this catalogue: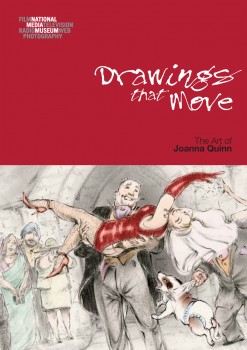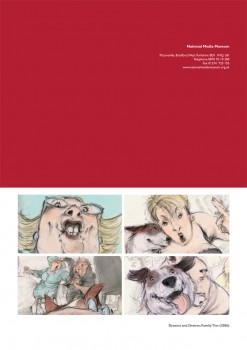 (Click any image to enlarge.)
________________________
- The ever-creative John Schnall sent me a video of a recent piece he did. As a film, it's pure promo but as a creative endeavor it's pretty sensational. I thought I'd like to share, so here it is: Glympse.
3 Responses to "Quinn & Schnall"
on 22 May 2009 at 12:22 pm 1.Dan Caylor said …

Love the drawings. Remind me of Daumier, one of my favorite artists. I love the dog! Thanks for sharing

on 22 May 2009 at 12:33 pm 2.matt said …

Oh great news-Joanna is one of British animations finest draughtsmen(women). This catalogue is stunning. Her 'Wife of bath' film from the Canterbury Tales series had animation & drawing to die for!

on 22 May 2009 at 5:34 pm 3.Nancy Beiman said …

Joanna Quinn has co-authored a book called DRAWING FOR ANIMATION with Paul Wells. It contains many of the sketches you've excerpted here, and also wonderful things like Frederic Back's storyboards!

Could you please let me know how I can get a copy of this catalogue?

Joanna Quinn is a marvelous animator, and (IMHO) the best draftswoman there is.
Leave a Reply