Photos 24 May 2009 08:38 am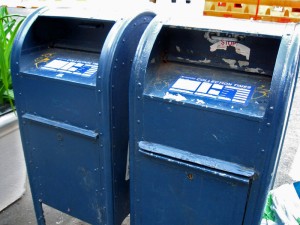 Memorial Day seems to be about the right time for me to remember mailboxes. Both brown and and blue, they exist in droves holding onto the snailmail still out there. One might wonder how many more postage rate increases it can withstand before we depend allmost exclusively on internet communication.
These days many of the boxes have been decorated with graffiti of different sorts. All of it seems to be some kinda message to the world.
Nice and clean with dozens of coats of paint
Given that it's probably a federal offense, one would expect such graffiti to be limited. But I'd say that that's not the case.
I can remember walking down the street with John Leguizamo and his director David Bar Katz as he was about to open in Freak on Broadway. Al around town his face was stenciled on sidewalks and walls promoting the show.
We passed a mailbox and John saw his image/ad. He got upset. He knew that it was a federal offense to mark up the mailbox and he asked his director to see if he could look into stopping such practices. The show opened and I suspect there was no such inquisition from the feds.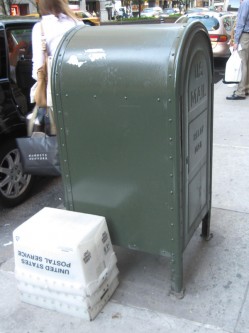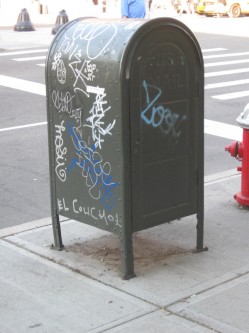 (Click any image you want to enlarge.)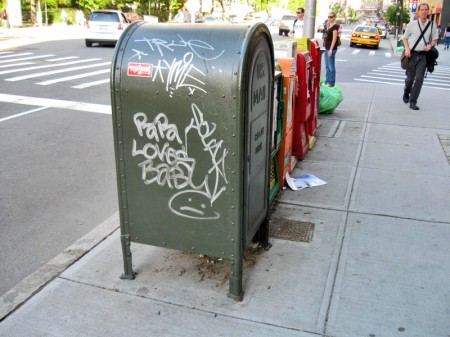 One graffiti writer wanted the world to know that "Papa Loves Baby"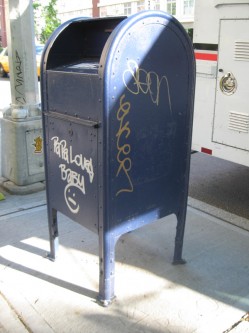 . . . so scrawled it up and down Houston St. in the Village – both sides of the street – on all of the mailboxes.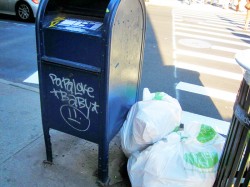 It certainly got the point across to "Baby".

.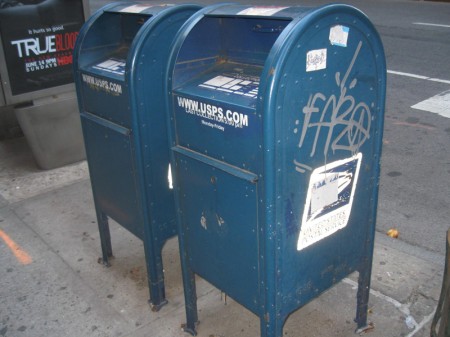 "Faro" is someone who's been out there for quite awhile.
(S)he doesn't just cover mailboxes. Subway walls and posters
are also fair game for this scribbler.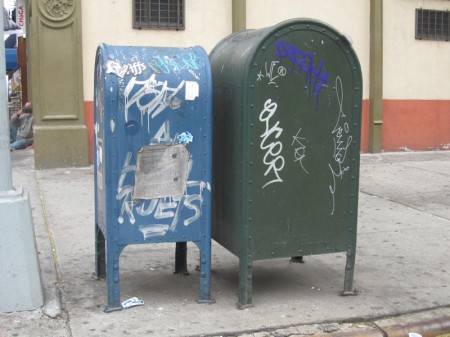 They can get pretty gritty.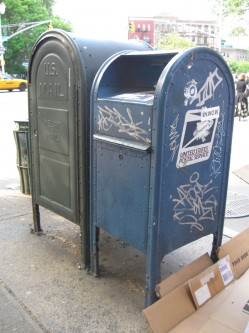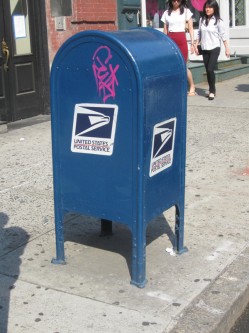 or some get newly painted with just a touch of pink.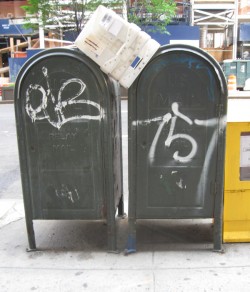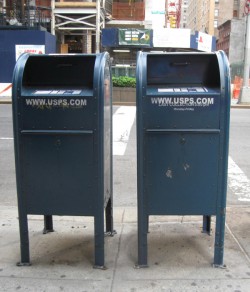 Sometimes they come in pairs – brown or blue.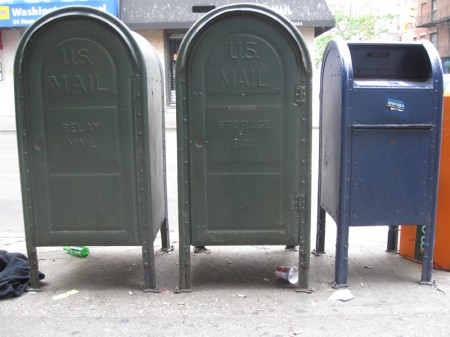 or threes. (newly painted)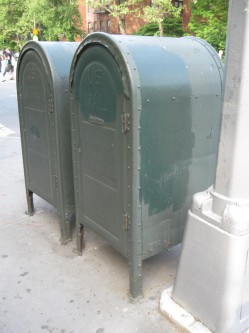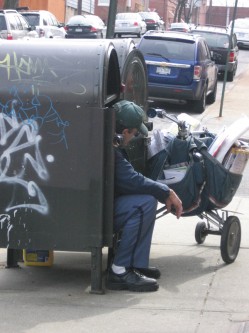 Unfortunately, clean up painting things don't get much better. Splotchy coats
of paint that don't match the undercoat don't always improve things.
It's exhausting when you think about it.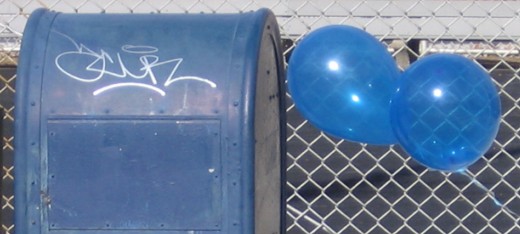 These last two photos are by Steve Fisher,
a better eye for the humorous than I.
One Response to "Sundayphoto mailboxes"
on 24 May 2009 at 10:35 am 1.Paul Spector said …

Out here where I live — an overdeveloped cowtown without the cows — corner mailboxes are a thing of the past. We are all trained to drive through the post office lot and use either the local or out-of-town box. However, one can still stick their outgoing mail in their own streetside mailbox and push the flag up to notify the PO person of outgoing mail. I wish some graffitist would come by and decorate mine.
Leave a Reply