Daily post 27 May 2009 07:35 am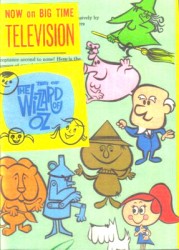 – I'm sad to report that ASIFA East board member, Tony Peters, has died.
I'd known Tony only in conjunction with ASIFA for the many years I sat on that board. He was a member before I, and that dates at least back to 1973. He was a voicferous member who helped forge that little organization back in its earliest days.
His work goes back as far as 1961 when he was one of the producers on the Tales of the Wizard of Oz for Rankin Bass. He also did continuity for Rudolph the Red-Nosed Reindeer and wrote and did production design for the Rankin Bass feature, Willie McBean & His Magic Machine.
His presence at ASIFA East meetings will be missed.
_______________

- Jeff Scher shares an older film of his with the NY Times.
NYC was shot in 1975. After the lab went out of business and the negative was lost, Jeff hand colored his print and used that as his negative. The images and colors were more vivid than expected and
his work was completed. Shay Lynch added an appropriate syntho-pop score which adds light to the film.
The words of Hans Richter "who spoke of rhythm as being the essence of cinema and 'the conscious articulation of time'" and Goethe "who called architecture frozen music" drove the film.
It's a stirring and expressionist view of the city with a hand-touched vivacity. Check it out (and support animation on the NY Times – so they know people are watching.) NYC
_______________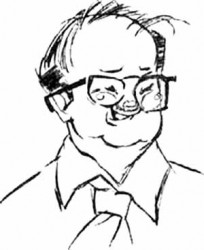 - An extensive article written by historian Greg Ford about animation director Tex Avery appears on the Bright Lights Film Journal's website. The article was originally written for the 1978 Zagreb Animation Festival's retrospective of Avery's work. It was reprinted in the Bright Lights magazine/journal but until now hasn't appeared on-line.
Like all of Greg Ford's work, it's thorough and extensive and includes unnecessary apologies by the author. If you have any interest in Mr. Avery's work, read Tex Avery/Arch-Radicalizer of the Hollywood Cartoon.
By the way, Greg Ford's commentaries on those WB DVD collections is among the finest. His offerings, as well as those by Mike Barrier and Mark Langer are principal.
_______________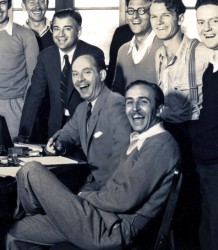 - And speaking of Mike Barrier, he recently posted on his site, MichaelBarrier.com, a picture of Disney wearing cap and gown as he received his honorary degree from Harvard back in 1938. This page and picture gave Mike an excuse to note that he had a relatively recent feature on his site called: Day in a Life. These photo essays are invaluable, and if you haven't checked them out, I urge you to do so. They're light enough to make you smile, but they offer real historical information.
Disney 1927
Walt Kelly, 1955
Disney, 1930
Kansas City, 1922
Disney, June 20, 1938
Disney, 1931
_______________
- Finally, in case you haven't heard or seen it, the current New Yorker cover is one that was drawn and painted by Jorge Columbo while standing and waiting an hour on line at Madame Tussaud's Wax Museum on 42nd Street. It was drawn on his tiny iphone. You can watch a short video of the cover painting and read more about it here.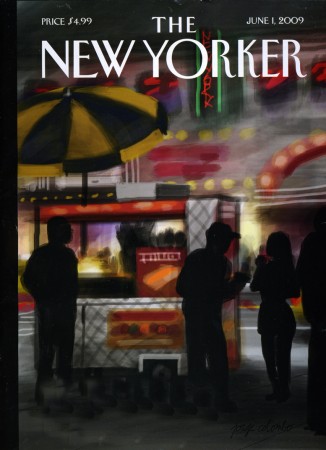 2 Responses to "Peters/Scher/Ford/Barrier & NewYorker"
on 27 May 2009 at 10:14 am 1.doug vitarelli said …

i've known jorge for a few years now. he's very talented and never stops working. his drawings are just wonderful. he has his own site: http://www.jorgecolumbo.com. it's worth a look.

on 30 May 2009 at 10:59 am 2.matt said …

Jorge & his cover were featured on ABC news last week-along with my pal Stef Kardos. Check out this clip:
Leave a Reply