Commentary 28 May 2009 07:58 am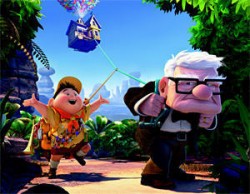 - I've read three different reviews for Up, all very positive.
. Tom McCarthy in Variety reviews the film we all expect to see: another feel-good, light and airy cartoon done by those wizards at Pixar. All positive.
. Michael Rechtshaffen in The Hollywood Reporter writes a less specific but much more buoyant review. "Despite the innate sentimentality, director Pete Docter ("Monsters, Inc.") and co- director-writer Bob Peterson keep the laughs coming at an agreeably ticklish pace."
. Robert Wilonsky in the Village Voice reviews a film that slyly works more as a film for adults than for children. "Pixar movies have been moving in this direction for years—adult animation sprinkled with just enough shenanigans to entertain the kids while we get our weep on." All positive.
The best written review was the Village Voice, and it's also the one that makes me most curious to see it. Two of the reviews suggest that 3D is probably a hindrance more than a help: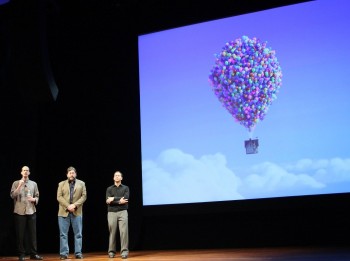 Variety: In fact, the film's overall loveliness presents a conceivable argument in favor of seeing it in 2-D: Even with the strongest possible projector bulbs, the 3-D glasses reduce the image's brightness by 20%. At the very least, the incentive for seeing "Up" in 3-D would seem less powerful than it is for other films.
Voice: Do not see Up in 3-D. It's inessential to the tale and altogether distracting.
The Hollywood Reporter spends much of its review promoting the 3D experience: "… those attending theaters equipped with the Disney Digital 3-D technology will have the added bonus of experiencing a three-dimensional process that is less concerned with the usual "comin' at ya" razzle-dazzle than it is with creating exquisitely detailed textures and appropriately expansive depths of field."
The film opens tomorrow, and I'll look forward to some of the other more mainstream reviews. I'll see the film at an Academy screening on Saturday. It'll be shown in 2D at the screening, so I won't have the option of seeing it in 3D. (Perhaps the Academy should update?) Regardless, I'd like not to see it wearing polarized glasses that dim the design's colors to offer an unnecessary effect. You pay $5 more for 20% less, in my estimation.
I'm not sold on the character design in the trailers and stills I've seen, and the character animation I've seen has not won me over. But that all becomes moot if the story is solidly engaging as both of these reviews suggest. I can hope as well as anyone.
__________________
Meanwhile in another story about Up, The NY Post offers a Q&A with Ed Asner, as well as a-not-very-positive article about Pixar's attempt to do more daring kinds of movies: a "… rodent-driven "Ratatouille" and continuing with last year's "WALL-E" — an amazing, mostly wordless film about a robot tidying up after an environmental apocalypse."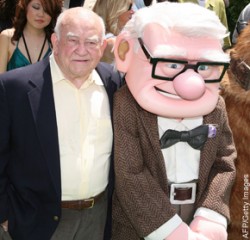 And now a film about a 78 year old man.:
"The movie's premise is so unusual that Thinkway Toys, Pixar's partner since 1995, has decided to sit this one out.
'That really tells you something,' says David A. Price, author of 'The Pixar Touch.' 'Everybody likes their grandpa, but the consumer product folks don't think that grandpa is gonna sell as a doll.'
Docter says he and the other creative staff at Pixar don't think in terms of marketing and merchandising."
I wonder if Bob Iger would say the same.
But then this has been the story on many of the entertanment blogs (eg: this one) over the past few months. Personally, I don't think it's fair to judge a film on its marketablity quotient, but then I'm not sure that a film that costs upward of $150 million shouldn't concern itself with that factor.
Originally, Toy Story premiered without any dolls on the market. Disney seemed to have been showing their lack of support for that first big Pixar effort. The success of the film caught them unaware, and they weren't able to truly capitalize on the dolls until after the success. (Making Toy Story 2 all the more important.)
Perhaps children will be craving for rubberized Carls and they'll have to make Up 2 to encourage them. Of course, that'd have to wait until Toy Story 3 and Cars 2 hit theaters.
35 Responses to "Up and Up"
Leave a Reply