Commentary 01 Jun 2009 07:31 am
Everyone's giving a review of Up, so how can I resist after promising as much last week.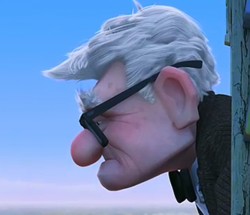 - I have to hand it to Pete Docter and Pixar; UP is a very good film. However, there are challenges for this viewer.
The first ten minutes are nicely flawless and set up the story well. Then, after Carl is widowed, the film settles down to earth and gets a bit mundane. Once Carl goes to court, the film shifts, turning into a cartoon and losing its lyricism increasingly as the film moves on. More and more, the imaginiative and unlikely ideas are thrown at us, and the story becomes less and less believable.
There's a nice, expedient and acceptable way for Docter to cut short the flight and get them to their South American desitination. It's smart, but it left a big, "Huh?" for me before I moved on. That's when the dogs enter wearing their jokey voice collars. I wonder if it might have been better for them to keep the dogs without voices. That would probably have offered fewer gags but a bit more logic.
Michael Giacchino's score is excellent. The main themes sound a bit like music from a Doris Day film. Light, bubbly and "50s". It brings the airiness the film tries hard to maintain.
There are several refernces to King Kong (the 1933 version). It occurs when they're entering a terrain that seems a bit remniscent of the native village in Kong. Lots of repetitive drums right out of Max Steiner's original score. The most obvious reference, of course, is those dogs in bi-planes trying to shoot down Russell. A couple of the jungle terrains also seem to be pulled from the earlier film.
But then, the film includes dozens of references to other live action films: the opening seems right out of Citizen Kane, the villain is named Charles Muntz (sounds like Mintz) and looks like Kirk Douglas, Carl looks like Spencer Tracey. There are many more, but I'm not sure if they're there for any purpose other than "fun".
There's some animation in the film that's quite fine , but there's also some not-so-good animation there. Lots of slipping and sliding in walk cycles; lots of weightless characters (an old cgi bugaboo.) However, it's miles above most of what I've recently seen and does give me a bit of hope.
Up's credibililty, for me, roams far from reality with a number of points including: a super humongous zeppelin (where do they get the petrol to run this thing?), talking voiceboxes on the dog collars (not only is the villain a great adventurer, he's also a brilliant inventor able to read dog-thoughts and build this eccentric machinery in the wild), dogs flying bi-planes with dart-shooting machine guns, and many other bits of business just turn the film into a not-very-believable cartoon.
Of course, all this is a byproduct of the principal idea – a house being lifted by hundreds of balloons. It's certainly impossible, but we all came into the theater knowing this to be a basic premise, and we agreed to accept it before sitting down. However, I'm not sure we were buying into a lot of other cartoony ideas after sitting through that excellent opening that ultimately seems to be from a different film. It's as though Bambi had Bugs Bunny as a friend, not Thumper, and the film kept trying to squeeze them together for us.
I'd hoped to accept the entire premise as a conceptual metaphor. Though, I don't think Docter, in his unspooling of the story, allows us to take this approach to the imaginative but cartoony ideas, so I had to ride with it at face value.
Perhaps this is all irrelevant to most viewers; the film is quite enjoyable while watching it. I did find myself stepping in and out of the story as it progressed, thanks to lapses in credible moments. I also found the film a bit tiresome at about the 2/3 point. Like Wall-E when they're chasing around in space, inside and outside the spaceship, this film has a dangerous chase inside and outside a zeppelin, on and off the balloon house. They came to the precipice at least four times too many and escaped every time.
I'm glad for what they gave me in this film, but I guess I'm the curmudgeon who hopes the "Action" scenes will be a tad more plausible in screen stories. And I guess I also wish for a little less "Action" in those films. All that running about over and over again get tedious.
But make no mistake, I do think UP is a very good film . . . just not the great one it might have been.
_______
By the way, you have to check out Lou Romano's site which is filled with brilliant pre-production art for this film.
29 Responses to "Up"
Leave a Reply