Commentary 25 Jun 2009 08:14 am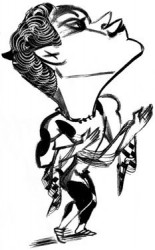 - The New Yorker magazine, this week, has a short article by Joan Acocella about some YouTube videos that have appeared recently showing Nijinski dancing. They're all short clips (10-15 secs) in, what looks like, early film footage as Nijinsky goes through bits of his most famous dances from 1910-1912.
The only problem, of course, is that Nijinsky was never filmed dancing. These pieces are animated bits by Christian Comte, a French animator working out of Cannes. He's taken the famed series of stills of the great dancer and maneuvered them in his computer to make it look as though they are actual moving. I watched them all and only one move looks artificial, as though Nijinsky were on wires as he glides up and over.
In Acocella's interview with Comte, he describes his work:
Comte acknowledged his authorship. "These films are animations of photographs, achieved thanks to a process that I invented," he said. "I work as an alchemist in animated cinema." He uses still photographs and, by employing a computer to alter them—tilt a head, move an arm—fills in the gaps between successive shots. That's why his "Faun" footage is so much longer than his other footage. He had all those de Meyer stills. This is basically no different from the way Steven Spielberg got the dinosaurs to run around the jungle in "Jurassic Park."

Comte insists that he is not trying to pass off his Nijinsky clips as authentic films. His YouTube profile page opens with a statement that it is a "mad legend" that any film of Nijinsky dancing survives. Yet he goes on to call his postings "film fragments." All of them display the date of each ballet's première—1910, 1911, or 1912—but they do not explain that this is not also the date of the video.
Here is one extended YouTube piece that I believe shows some tests and dailies strung together. All of the others are cut into shorter snippets and black-outs, hence feel more like actual fragments. When strung together like this, you can feel the manipulation.

We've undoubtedly entered a new era of artificiality. Animation has moved closer to reality (except for the inexperience of the animators, themselves.) The first 20 mins of Wall-E set a tone of reality that matches the effects in Dark Knight. The mix of live action footage with the animation made it feel more real. (Of course the last 60-70 mins of the film felt artificially devised and spoiled those opening 20.)
It's hard to go back to Snow White anymore now that the apple has been tasted.
5 Responses to "Nijinsky – "He's ALIVE !""
Leave a Reply