Daily post &Disney &Music &UPA 31 Jul 2009 07:16 am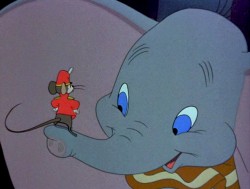 - There's an extensive review of the music for the Disney animated features, from Dumbo on up through the Fifties. The article was written by Ross Care who is a composer and a film music historian specializing in animation. This was originally written for Cinemascore and can be found on their site – here.
The article gives reports on the music of composers Oliver Wallace, Paul Smith, Ed Plumb and Charles Wolcott. It talks about Dumbo and the post Dumbo features: Victory Through Air Power, Saludos Amigos, and The Three Caballeros. Make Mine Music, Melody Time, Song Of The South, So Dear To My Heart, Fun And Fancy Free, Ichabod And Mr. Toad as well as Cinderella, Peter Pan and Alice in Wonderland.
If you have any interest in the history of film music, particularly applicable to the Disney films, this is worth reading.
______________________
- Here's a review of the film music of UPA written back in the Fifties for Films In Review magazine. I don't have the exact date of this article I'd saved for the past thirty years.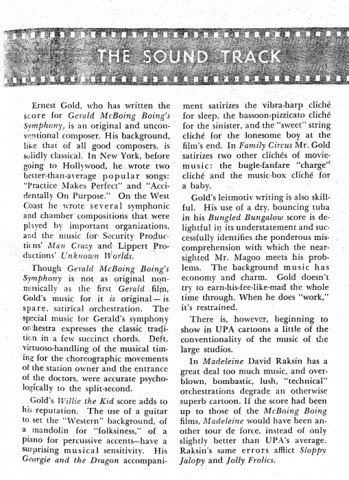 1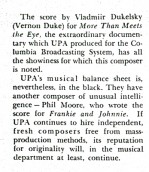 2
(Click any image to enlarge.)
3 Responses to "Animation Music"
on 31 Jul 2009 at 11:31 am 1.Pete Emslie said …

Michael, as soon as I clicked onto your blog today, I was met by that simple, appealing hand-drawn image of Dumbo, with his expression of pure joy and innocence. My immediate and involuntary reaction – I smiled right back.

That is the power that those Disney classic characters have always held for me. Their sincerity elicits a genuine response from me that I can only describe as a reflex action. Funny, but I have never had that same response to any CG character, nor to any animated film of late. Too bad…

on 31 Jul 2009 at 12:31 pm 2.Michael said …

Are children of today as affected by Up and Wall E and Kung Fu Panda as we were by Dumbo and Snow White and Lady & the Tramp way back when? I have a hard time connecting the two, but then I couldn't possibly put myself into the head of a child of today.

on 31 Jul 2009 at 9:32 pm 3.Alexander Rannie said …

Thanks for posting these articles!

Ross Care is without peer in his knowledge and passion for music in animation and it's always a pleasure to read his thoroughly researched writing.

As for the Films in Review article, it's from 1953 (v.4, pp.243-244).
Leave a Reply