Commentary 30 Jul 2009 07:18 am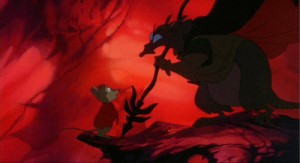 - The news screamed out this week that The Secret of Nimh (otherwise known at Mrs. Frisby and the Rats of NIMH) would be redone by Paramount. Obviously, this wasn't the film that would save animation, and the new version won't help much either. It'll end up a cg/Live Action combination equal to that Guinea Pig
movie that just opened to big box
The old fashioned Secret of NIMH from Don Bluthoffice success.
We'll have cgi rats and mice running around a live action farm environment chatting away. The film will be written and directed by Neil Burger who did that smash success, The Illusionist, a couple of years back.
One wonders how Don Bluth feels about this. We've already had The Chipmunks reanimated in some horrible incarnation of the original Format Films' animated characters, and we've seen Scooby Doo, Garfield and Rocky & Bullwinkle turned into cgi clones of the definitely 2D characters. All terrible movies.
Now we get to witness serious feature animated films reworked into cg monstrosities. Perhaps Disney will take the cue and do a cg/Live Action version of Lady and the Tramp or Snow White or, dare we hope, Fantasia.
I read today about that the "auteur" Zhang Yimou is reamking the Coen Bros. film, Blood Simple. I wonder if any purists would complain if they decided to turn some Live Action gems into cg films. How about Citizen Kane? or Gone With the Wind? The Wizard of Oz is just waiting for the call. After all Tim Burton is doing Alice in Wonderland, and Zemeckis is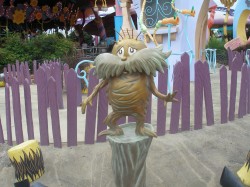 crowing about The Christmas Carol with Jim Carrey doing 10 different roles. (Is there any film that Jim Carrey can't do?)
Word has also come that Universal is about to make Dr. Seuss' book The Lorax into a 3-D CG animated feature. After the modest financial success of the Blue Sky feature, Horton Hears a Who, why shouldn't Universal jump into the ring? It has to be better than DePatie-Freleng's version. At least it'll stretch the delightful book even longer.
The Lorax
Are there ANY original ideas out there? Has the entire Hollywood world gone so vapid that they can't come up with anything original?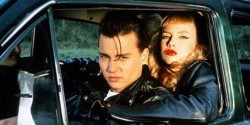 But then this isn't just the case with Hollywood features; Broadway is going down the same road. There are dozens of shows coming to Broadway that are reworked movie scripts. Everything from 9 To 5 to Cry-Baby have come and gone on the once great thoroughfare (now parking mall, courtesy of Mayor Bloomberg) Broadway. Disney has Cry-Baby the movie
paved the way for many others; The Little Mermaid
is about to close.
Word that 101 Dalmatians, the Musical has been touring everywhere. It's not a Disney show, but they're trying to play off the Disney cache. But then, it's not a Broadway show either, even though "Broadway" is mentioned numerous times on their website. 15 live dalmatians on a theatrical stage; imagine the fun.
It's obvious that animated films are the last place to find any original thought. Up and Wall-E from Pixar, Shrek and Kung Fu Panda from Dreamworks, Ice Age and The Fantastic Mr. Fox from Blue Sky.
Then the Studios can make live action/animated versions of these films, then Broadway can do their shows. Oh, wait. Shrek is already failing on Broadway. There's always room for those Madagascar penguins.
Hopefully, Independent animated features will get into the act: the musical Triplettes of Belleville is perfect for Broadway, and I can already see the musical version of Waltz with Bashir and Bill Plympton can try to compete with Mamet with Idiots and Angels.
After writing this, I caught the Cartoon Brew feature about this very thing. I guess it's enough to catch your breath if you love animation.
9 Responses to "Redos"
Leave a Reply