Books &Commentary &walk cycle 12 Sep 2009 07:40 am
- When I was a kid, there were few resources one could turn to for information about animation and the process of making these films. Before computers, information was somewhat more difficult to acquire.
I couldn't afford many books on the subject. Of course, I owned the Preston Blair book and that other Walter T. Foster book about Making Animated Cartoons (the one that wasn't drawn very well and included animation examples that just didn't work.) My treasure was the 1958 Bob Thomas book, The Art of Animation, with its technicolor focus on Sleeping Beauty.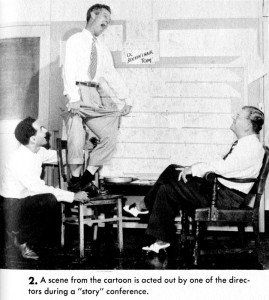 I also clipped every magazine/newspaper article or image I could find about cartoons and saved it in a homemade scrapbook. It would be years before I came upon Mike Barrier's Funnyworld Magazine or any other mag, for that matter, that focused exclusively on animation or cartooning.
There were other books, and I went to the library to check them out monthly. I treasured that library copy of Robert Field's The Art of Walt Disney that I read over and over again. I appreciated Nat Falk's How to Make Animated Cartoons.
There was one book The Complete Guide to Cartooning by Gene Byrnes that had a chapter on MGM cartoons. This book had some of the greatest photos in it. Animators, inkers, directors, cels and sound effects. The pictures were great in that forties kinda way that just had me drooling animation when I looked at it. (It was published in Jan, 1950.)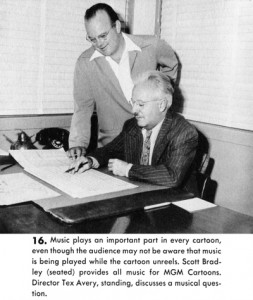 This came to me years ago when I found the animation section of this book on line. I haven't been able to locate the site again; if I do, I'll post the link or scan the section myself to post.
It came again recently when friend, Tom Hachtman, visited and brought a copy he owned to see if I knew about it. Of course, opening the whole book was like going home again after dozens of years. I knew every page intimately.
Two pages that stood out followed the MGM section and had the same effect within the book of seeing a Terrytoons cartoon after seeing one from MGM. Low rent. The pages look like left overs from Nat Falk's book (and may, in fact, have been part of one of his books.)
However it amused me to look them over and actually run the peculiar walk cycle through AfterEffects to watch the motion. There are no registration marks, so I had to guess. (I didn't take a lot of time with this, believe me.)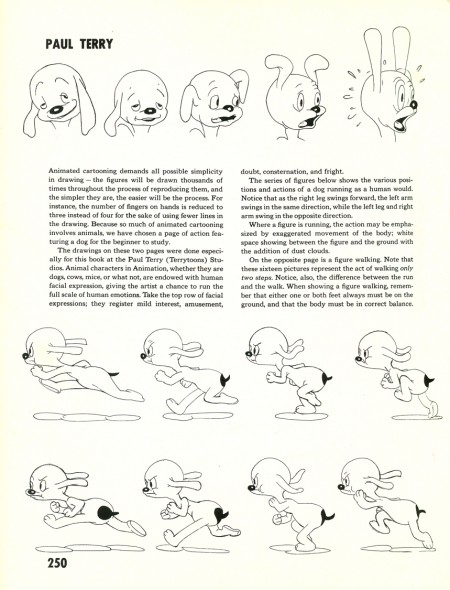 (Click any image to enlarge.)
.

Here's the QT of the odd pupwalk:
Pupwalk on two's
I'm not sure who animated this – my guess Connie Rasinski
Click left side of the black bar to play.
Right side to watch single frame.
6 Responses to "Cartooning"
Leave a Reply