Commentary 24 Oct 2009 09:03 am
- I recently received this email via Facebook:
Hi

I'm a self-taught animator from Colombia, South America.
Today, I've found out that John K's blog is going private. I think he was tired of some comments, or dissappointed by the reaction to some of his posts when he speaks his heart out. Well, it is a shame and I hope he'll make it public again, or at least that he invites me to join.

Anyway, sometimes one takes for granted things, and your blog is one of my daily visits. It contains so much information, and I just want to thank you for sharing this knowledge, and to take your time to keep it active.

Well, if you wanna see some of the use I made with your info, check my practice blog: here. Also you can check a short film I made some time ago: here.

Bye and thanks again
Hasta Luego
I receive similar letters often as a result of my blog. It's humbling to get them, but, at the same time, it's part of the reason I keep doing this so enthusiastically. I enjoy sharing the bits and pieces that come my way, and I truly want to see 2D animation continue on a high road. Only by keeping the word out there and sharing the knowledge of those I revere can the stream stay alive.
I'm not quite sure why John K decided to make his blog Private, but I have no plans to follow suit. It is nice, once in a while, to hear that others enjoy it as well.
______________________
- Michael Barrier has a smart piece on his site. In Lost Illusions, he writes about the artist – in our case, the animation artist – who tries to stick to his sense of value and artistic integrity, but because of the way the medium is constructed, compromises set in and become an integral part of the "art" that the artist not only develops but defends.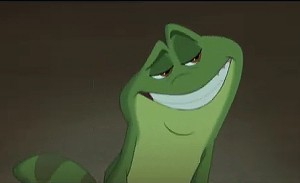 Mike's commentary is a buildup to carefully analyze the six minute opening of The Princess and the Frog. Unfortunately, I agree wholly with what he has to say. I haven't seen the six minute piece (apparently on the Snow White Blu-Ray disc), but I have seen various trailers. All contain scenes that are heavily affected by an unbearably unctuous frog, sarcastic and racy in the tedious way of all sitcom sensibilities. This isn't adult; it's just tawdry. Only 30 seconds, and I'm not sure I want to see more. But this is only a trailer, and I have to see the whole film.
I will see it – how can I avoid it, how can I not support 2D animation on a large scale. I hope that The Princess and the Frog will be better than I expect, but things don't bode well with scenes seen in the trailers.
______________________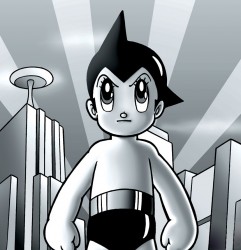 - Yesterday, this paragraph pretty much summed up the review Manohla Dargis gave to Astro Boy in the NY Times.
Like a lot of movies, "Astro Boy" has been designed to function on different levels and serve different audiences, but in this case these multiple meanings and points of address have created a confusion of tone. The story's undertow of darkness pulls you in one direction, while Astro Boy's insistent cheerfulness, which seems more commercially motivated than personality-driven, pulls you somewhere else. This jaggedness extends to the visual design, which at times intriguingly recalls the flat, graphic style of the 1950s, yet also often looks thinly conceived, sketchy, even cheap. Somewhat more rounded than the original character, Astro Boy, meanwhile, now brings to mind the chubby mascot for the restaurant chain Big Boy. Maybe the fuller figure is part of his Americanization.
Wouldn't it have been amazing if some industrious producer had stuck to the original look and feel of those cheap Astro Boy TV shows? 2D animation on fives and sixes with dialogue that sounded lip-synched even though it sort of worked. Cheap cartoons made to look like the high priced spread. Everything's getting to look alike.
Is this one of those 15 eligible for the Oscar?
NYDaily News – 2 stars
NY Post – 3 stars

______________________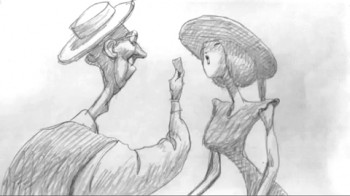 - Speaking of Independent films, Bill Plympton has a Pencil Test of his latest short, Cheatin', available on YouTube. It's a work still in progress so the usual disclaimers have to be attended to. However, I have to say that some of the drawing in this film is among the best I've seen from Bill. Very inspirational.
______________________
3 Responses to "2D Art?/AstroBoy/Plymptoon/"
on 24 Oct 2009 at 11:56 am 1.Bill said …

To the 2 Mikes,
Thank you for helping me retain my sanity, you both always achieve your goals and then some, glad to hear Mr. Sporn is planning to stick around for awhile. Keep on punchin'!

on 24 Oct 2009 at 9:52 pm 2.Jonah Sidhom said …

Thanks for posting that link to Cheatin'. It led me to a bunch of other awesome work of his that I haven't seen.

Does anyone know the status of Happy Cow (a cow who wanted to be a hamburger)? I want to see a finished version really bad. With a name like that, I'm willing to forgive any flaws it may have.

And also, I'd like to thank you for this blog as well. I still can't get over how it's updated everyday with an interesting and meaningful update. Keep up the good work! It's definitely not going unappreciated.

on 25 Oct 2009 at 6:52 am 3.Stephen Macquignon said …

I enjoyed the short film by Hasta Luego fun to watch.
Bill Plympton's pencil test was enjoyable.
Leave a Reply