Frame Grabs &Layout & Design 26 Oct 2009 08:31 am
- Johnny Vita was a staple in the NY animation industry for some time. When Ralph Bakshi got Fritz the Cat as a feature, he brought Johnny Vita along as his Background designer and artist. This was arguably the best decision Bakshi made on the film.
Vita went out with the storyboard and photographed locations that actually existed. His camera was all over Greenwich Village and Harlem. Then he took these photos and did a linear tracing of the settings. Then he colored the images with Luma dyes under the lines that he had traced. These brilliant colors gave the gritty images a luminescent appearance. He manipulated the images and purposed them as the film's backgrounds. This gave the film a reality that it otherwise didn't have, and it made the bigger job easier for Bakshi to realize.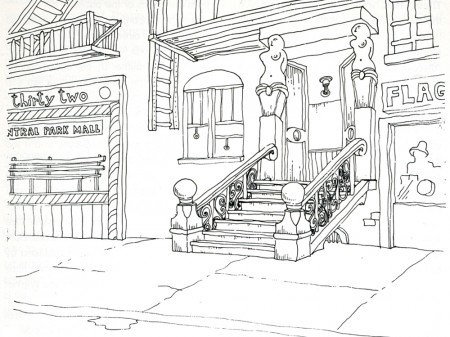 This drawing by Ira Turek was traced from a photograph and
Xeroxed onto a cel and background paper. The BG was painted
by Johnny Vita and the cel with lines was placed over the BG.
This is a similar process that was used in 101 Dalmatians.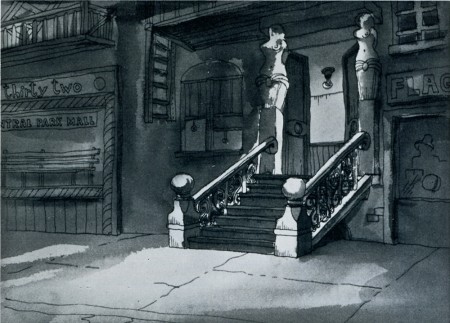 These photos were taken from a 1974 Print Magazine article
about Ralph Bakshi, whose Heavy Traffic had just been released.
The extra treat for New Yorkers was in seeing locations that were familiar to them. Oddly, all these years later, it still seems to work.
I've put together a number of these exterior background reconstructions from the first third of the film and present them as a sample of what Johnny Vita contributed to the film.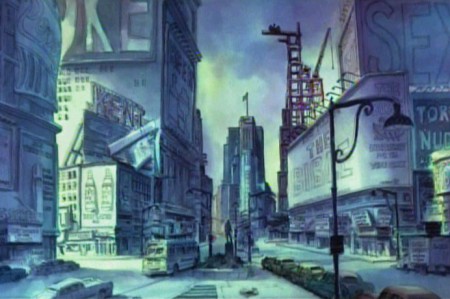 1
(Click any image to enlarge.)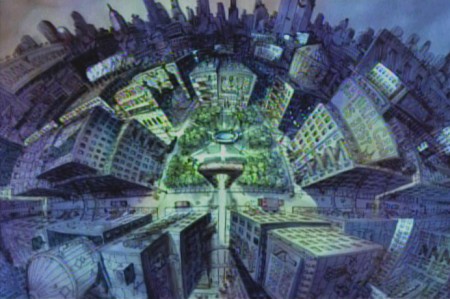 2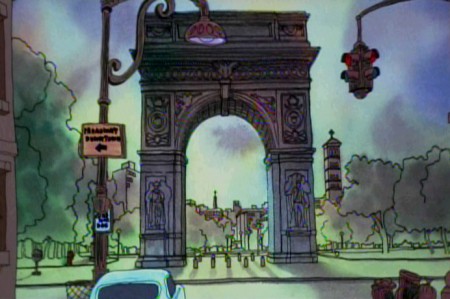 3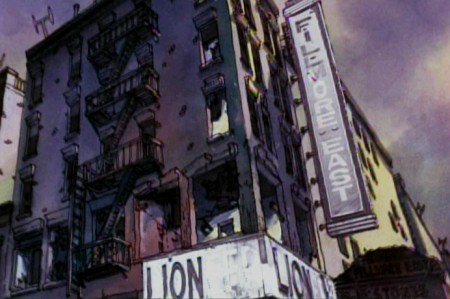 4

5

6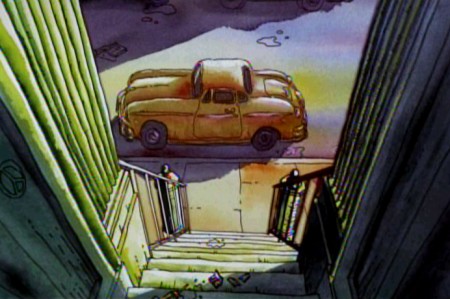 7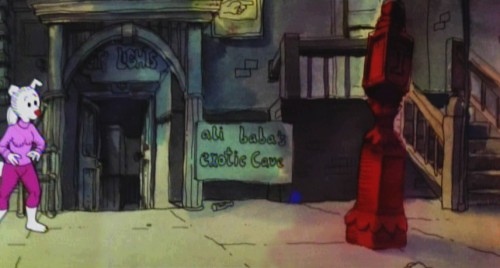 8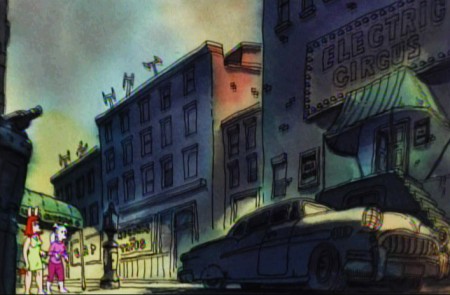 9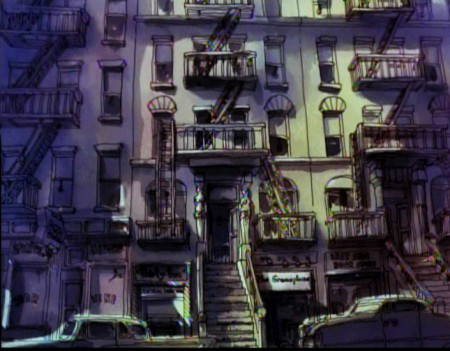 10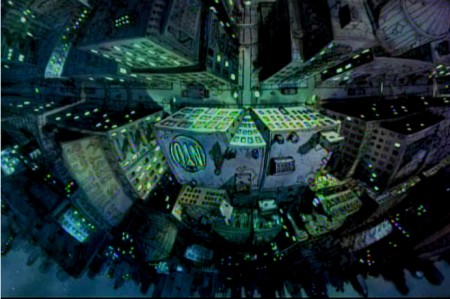 11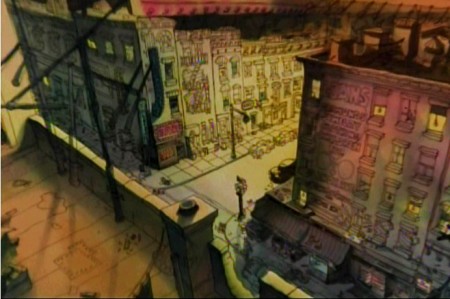 12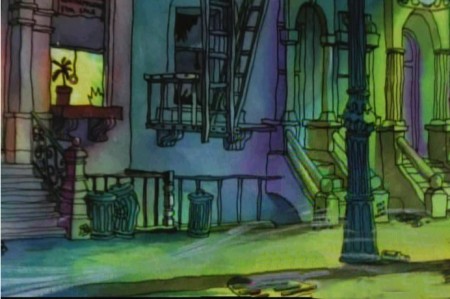 13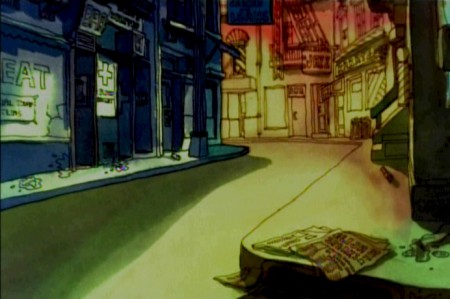 14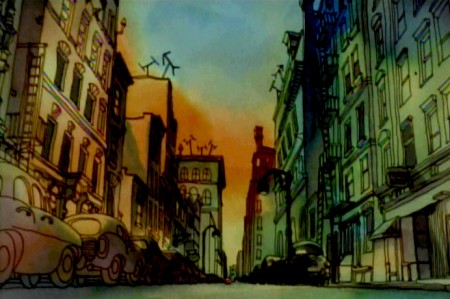 15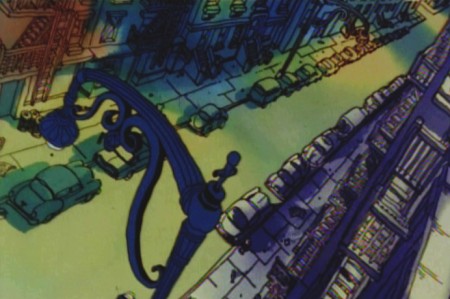 16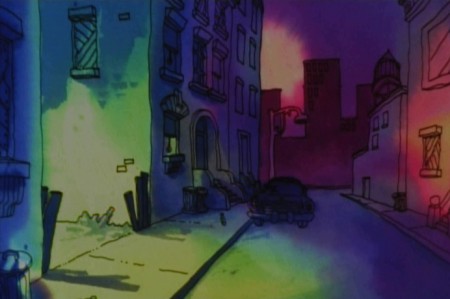 17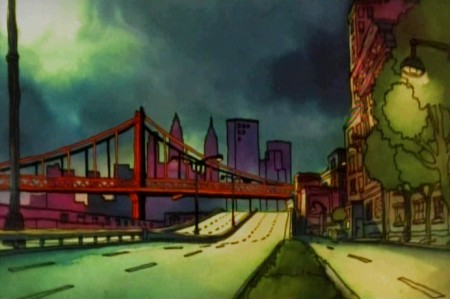 18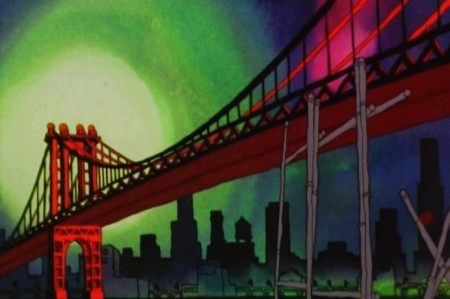 19

3 Responses to "Johnny VIta's Fritz the Cat"
on 27 Oct 2009 at 11:27 am 1.Richard O'Connor said …

In his book, Bakshi also claims working with Johnny Vita was one of his best decisions on Fritz.

I agree, but not simply because they are beautiful environments.

They remove the film completely from Crumb's world and make it Bakshi's. Ralph is at his most successful when he's "true to himself".

on 27 Oct 2009 at 1:10 pm 2.Eric Noble said …

These are some cool backgrounds. Bakshi definitely made a good choice when he got Johnny Vita. Thanks for putting these up.

on 28 Oct 2009 at 4:04 am 3.Eddie Fitzgerald said …

When I worked for Ralph he occassionally talked about Johnny Vita and Ira. He had a lot of affection and admiration for those guys.
Leave a Reply